2023 – CHW
Photinia parvifolia flowering for the first time here. Hawthorn like! Our Photinia species collection is growing nicely. Only 2 more species to get to have the full list of those in the Hilliers catalogue. 16 species here now.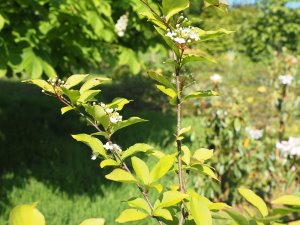 Aesculus hippocastanum 'Baumannii' full out well before most of the other species of Aesculus which are now on the way.
Quercus rugosa with new growth appearing. The old leaves are wind battered.
Magnolia (Michelia) 'White Caviar' is another in the series of these extraordinary (M. figo x M. doltsopa) New Zealand hybrids. The flowers on M. 'Port Wine' may well not be that different to M. figo itself (as we saw recently) but 'White Caviar' is getting better and better. Unlike M. figo the flowers open out flat and have gorgeous dark pink centres as you can see here. Looking in the Eisenhut reference book I see that there are even more named varieties of similar parentage. There are all very desirable garden plants which will grow in popularity in the next decade when people get to see them growing away properly.
Pseudopanax 'Moas Toes' romping skywards above Crinodendron Hedge. Tree like!
A good new clump of (deciduous) Azalea 'Silver Slipper' nearby. The contrast between new growth and flower is attractive.
All the new planting above Crinodendron Hedge is shaping up well with many new things to enjoy over the seasons. Need to cut back to reshoot both the Escallonia species here despite them only being in the ground for 3 or 4 years.