2021 – CHW
A present from the Rev Michael Warner of Thuja plicata 'Whipcord'. A most peculiar plant which will never get very large and is suitable for a rockery or upraised bed.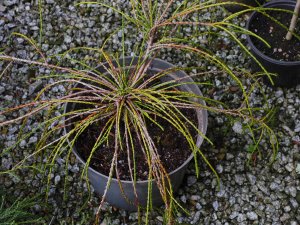 Cutting back laurel and rhododendron above Hovel Cart Road.
A clump of six Enkianthus chinensis on Hovel Cart Road.
Staphylea colchica 'Black Beauty' is a welcome addition to the Staphylea collection.
Sorbus helenae (ex Mt Omei) just into leaf and flower.
A very good show on a somewhat hidden away Michelia foggii 'Jack Fogg' above Crinodendron Hedge.
New leaves on Fagus sylvatica 'Prince George of Crete'.
Podocarpus lawrencei 'Purple King' purchased at Hampton Court in 2019.
Rhododendron 'Graziella' can be a shy flowerer but not this year.
A 2017 planted Sorbus hedlundii (GWJ 9363) just into leaf. Spectacular foliage!
Picrasma quassiodes is a new rarity leafing up in its second year after planting.
Another clump of Enkianthus cernuus recurvus rather darker in colour.
Enkianthus campanulatus 'Showy Lantern' a wonderful bright red in colour. Silly name perhaps but spectacular against other red forms.
Carpinus nimpoli which seems to be a dwarf species with tiny leaves. I find this species impossible to trace in the reference books, but it came from Bulk or Roundabarrow.
A survivor from my mother's gardening era is a small bed of Iris siberica 'Snow Queen'.
I have been pondering what this species is in the rockery and thought at first Rhododendron pentaphyllum but it is actually a light coloured form of Rhododendron reticulatum. The new leaf form gives it away. It is our only plant of this. Rh reticulatum comes in a wide variety of colours and subspecies (we have Rhododendron kyosumense). They are not quite fully deciduous in our climate.
Also in the rockery is a dwarf Azalea indicum (Rhododendron indicum) which I thought last year was called 'Bungo-Nishiki'. I now cannot find this name or picture. The closest I can get to it in Galle's azalea book is Azalea indicum 'Balsaminaeflorum' but it is clearly orange here and a pinkish/red in the book. Perhaps I was right first time around?
Azalea 'Purple Splendour' beside it is much younger and needs cutting down. A fair bit of it is on its way to Chelsea where it will hopefully open more fully.
The Echium pininana on the lawn photographed after the winter gales looked black and nearly dead – today they are 20ft tall and coming nicely into flower. Pink buds opening to blue. They will quickly die after flowering and seed everywhere which is no problem. We have a fine 6ft plant in flower on its way to Chelsea.
1941 – CW
First rain for weeks last night. Bracken cut by frost below 4 in Hand a few days ago. Auklandii at its best and Zealanicum hybrid. Mag wilsoni and nicholsiana just coming out. Also Azaleas. There are still flowers on Camellia speciosa but the last. The hybrids over. All small Azaleas very good.
1940 – CW
Mag nicholsiana at best but big one mostly over. Wilsoni fully out, Parviflora just first lot of flowers. Auklandii still good in places. Tally Ho just coming out and Azaleas at their best. Took 2200 odd flowers off the Rho orbiculare. It has layered itself. Rain badly wanted.
1932 – JCW
Augustinii very good in most places, and so are the Maddeni x Roylei. Mag speciosa and alba superba are very good.
1927 – JCW
Mag parviflora is very very good the big one, Nicholsoniana with about 9 flowers is very promising. Rhodo's burnt out by the sun and dry air. Some Azaleas in the Hovel are nice.
1926 – JCW
Primula pulverulenta has been long of flower. May was open on April 24th. Blue beds at their best. Roylei cinnabarinum in the new planting is nice, also Rho zealanicum.
1906 – JCW
The first flower of Primula pulverulenta open.
1900 – JCW
Moved seven trumpets from the Kitchen Garden to the rose bed. No waterlilies.