2023 – CHW
5 different species of Eucalyptus to catch up with today in Kennel Close.
Eucalyptus crenulata. Wonderful new growth but the old leaves look scruffy. A bushy habit and not yet a tree.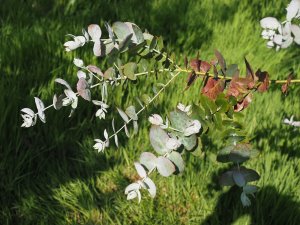 Eucalyptus delegatensis (ex Roundabarrow Nurseries) with a strange blue hue to its large leaves.
Eucalyptus gregsoniana (also Roundabarrow) with a fine set of new growth.
Quercus trojana just coming into leaf. A gift from the 2019 IDS visit here.
The sweetly scented Magnolia 'Southern Belle' (planted 2014) is out earlier than usual and with smaller flowers than usual as well. Normally this and the similar M. 'Summer Solstice' are out at the same time.
Juglans cinerea just into leaf.
Eucalyptus mannifera var. praecox (2014 planted). The trunk has peeled already but no flowers as yet.
Eucalyptus simonosii with plenty of buds and a wonderful trunk. 2014 planted also and flowering for several years. Lots of sap oozing from the trunk last summer in the drought which had me worried then. Looks fine now.