2018 – CHW
These are an assortment of my father's rhododendron hybrids. All are nice enough but nothing is outstanding or different enough to merit naming or registering. A lot of effort over 20 years to grow these from seed to flowering sized plants now consigned to obscurity!

This one is however a bit different! Jaimie's cross of Rhododendron calophytum with Rhododendron 'Titness Park'. An odd cross perhaps as 'Titness Park' is itself a Savill Garden calophytum cross. Rather good as it opens but fading to white. Worth naming?
A robin has nested and laid in one of our many new nest boxes only erected 10 days ago.
Magnolia x brooklynensis 'Woodsman' x 'Pink Surprise' is rather insipid above Crinodendron Hedge.
Another Magnolia 'Yuchelia', later out than the original and nearby.
Magnolia x brooklynensis 'Black Beauty' is very fine and black as it opens.
Another new one to us flowering for the first time; Magnolia 'Ossie's Yellow', as yet nothing special.
A clump of the dwarfish Rhododendron tethropeplum which I had forgotten about.
Another two year old clump of Enkianthus serrulatus flowering for the first time.
Enkianthus campanulatus 'Ruby Glow' just out. Also a newly planted group and with loads of flower.
Then a big excitement. A new Enkianthus campanulatus variety called 'Showy Lantern' out for the first time. A clump of three plants above the greenhouse. Very good!
A daffodil clump still out on the day we say hooray for the start of outdoor sex!
2017 – CHW
A day with Gerry and Louisa finalising the detailed Chelsea Flower Show plans and, more importantly, inspecting the plants themselves in the show tunnel. With such an early year in the garden and the rhododendrons full out three weeks earlier than normal it was with some trepidation and pessimism that I entered the main show tunnel.
I needn't have worried! The show tunnel plants are in startlingly good order; glowing in leaf and with buds in all directions.
A beschorneria has a huge flowering spike which should be perfect in three weeks' time.
Look at this huge jasmine. Our theme is 'Plants as Pollinators' and this is perfect. Only about half out.
Acers aplenty and look at the leaf colours.
The reddish new growth on this huge, rare Eriobotrya deflexa should be perfect too.
The trachelospermums are full of bud but Gerry and Louisa have moved them into the hottest part of the tunnel to bring them on more quickly.
Flowers coming on the actinidias.
This Cardiocrinum giganteum has a huge flowering spike. Can we get it in flower in time? With a warm fortnight perhaps.
The leaves on the Rheum palmatum for the stand are going to be perfect.
So is the tree fern!
The gunneras which have been inside look a bit weak and insipid still.But the huge ones outside do not! The leaves will double in size in the three weeks to show judging.
So it is under control for now but what will the weather bring? We will decide on what needs to go into the coldstore next week to hold it back. A frost could be disastrous but too much hot sun may mean we have to shift plants from the show tunnel outside and into the shade. Lots of work and lots of moving about in the next few days before the final decisions about what exactly goes onto the lorries!
2016 – CHW
Bank holiday Sunday and, predictably, rain! Hardly worth opening. The beech tree below the green gate was a self-sown seedling from the centre of the Chinese garden at Werrington given to Dad by my grandfather. There are two more at the Top Lodge but one split in half there early last autumn. In the last week this now nearly 40 year old tree has come quickly into full leaf. Splendid if we had the sun on it.
The Quercus coccinea by the garden entrance is also putting on its first leaves. Strangely attractive how they seem to droop down after they first emerge as a silvery light green. Autumn colour is matched by a spring surprise.
Outside the back yard Rhododendron 'Sappho' is out. This very old ponticum hybrid is normally a shoe in for Chelsea but, like so many other rhodos, it is going to be long over this year.
Driven indoors by the rain I finally get to write the article on the mysteries of michelia identification here and how the experts have now said all seven of our 90 year old plants are not three species, as we thought, but just one. For the Magnolia Society International yearbook or the Cornwall Garden Society yearbook perhaps or for both?
2015 – CHW
The target today is to look at (and for) other newish michelias flowering for the first time but I get side tracked as usual.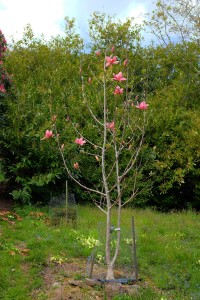 Magnolia 'Daybreak' – we have two plants in flower and nice though it is one cannot help wondering if it has the same parentage as 'Yuchelia'.  As they come out, but not later, the flowers are very similar.  The reference books do not seem to know Daybreak's parentage.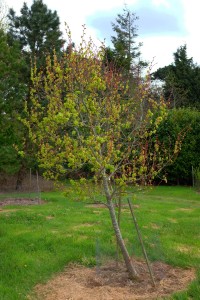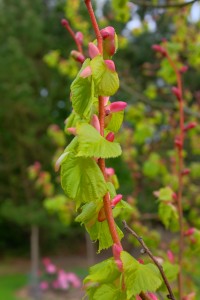 Tilia cordata 'Winter Orange' is coming into leaf and the twigs and new growth from last year is starting to lose its orange glow which was so striking in the winter months.  A chance seedling from a Dutch grower found only in 1987.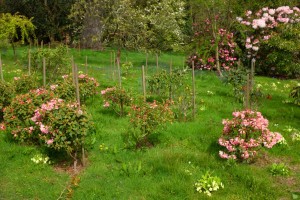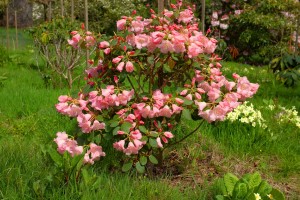 Rhododendron 'Moonstone' (campylogynum x williamsianum) forming a nice new clump along from Georges Hut alongside two Rhododendron williamsianum.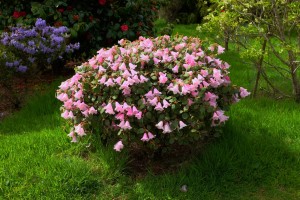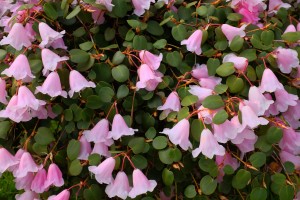 These have at last got going.  All the old williamsianum plants in the Auklandii Garden died of old age 20 to 25 years ago although a newer group are still in their prime at Burncoose.  The last big plant to die was 80 to 90 years old, 6 to 8 foot tall and 10 to 12 feet wide.  It has taken at least 15 years to get back to these two small plants but the new clump of a dozen just up the path are getting there too so thankfully williamsianum is now safe. There used to be a huge clump of williamsianum x martinianum (never named) just here on the opposite side of the path but these died of old age too 15 years or so ago.  Burncoose has good clumps so we must propagate.  Martinianum was named after gardener Martin at Caerhays.
2000 – FJW
Garden at its peak, new planting beginning to show.
1960 – FJW
Garden at its peak. Has been dry and hot since April 17th. Flower buds on Magnolia rostrata for first time since 1955.
1930 – JCW
Auklandii just opening, Souliei x hardly moving, Incisa and Subhirtella lot are over. Mag halleana at its best. Kobus and salicifolia over. Conspicua at its best. Denudata nearly over. Some nice Augustinii.
1918 – JCW
Auklandii's begin to wane. Cherries very much so. Recurvas well open. The first flowers at C of E dichroanthum.
1915 – JCW
R auklandii just opening. Cherries still good. P loderi, R augustinii, Dr Stocker, white decorum, R suavis, Red Arboreum and White Arboreum hybrids all good. Many plain Arboreums good. Daffs are on the wane. N recurvas not really out.
1914 – JCW
R auklandii has begun to molt in a rough dry wind, a very fine lot of rhodo's out, some these the best we ever had. Cherries going back.
1913 – JCW
Cherries going back, we saw Mag out near St Blazey a fortnight since, a good lot of azaleas out. The unopened Mrs Butlers have some flowers open. R rubiginosum in full flower, the auklandii's nearly out. R glaucum and some scented things out. Sent scented buds to Dinton. Recurvas nearly a ¼ of it open.
1905 – JCW
No sign of May. Montana ⅓ open, ¼ of the recurvas. Many azaleas open.
1903 – JCW
Mary picked some May about five days since.
1902 – JCW
Half the recurvas open nearly, Marvel about the same, several azaleas out, a good bit of montana. Maples quite good.