2019 – CHW
Medwyn's vegetable stand for Anglesea. Medwyn retired nine years ago and is now 75 to 80 but got bored with not winning RHS gold medals and awards so is back!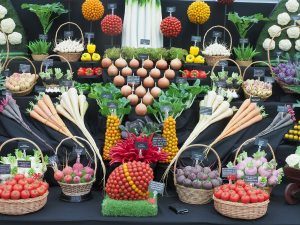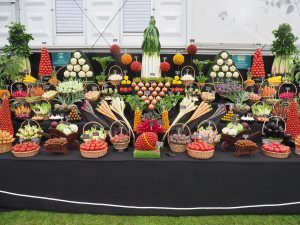 The judges advance on our stand at about 8.15 and we observe from afar.
Rupert Eley the 'moderator' or monitor of the judges.
Jonathon Jones and the smoking kettle on the Tregothnan stand (I was having a smoke too!).
Godson Archie (not smoking – at the time anyway).
Mrs Williams arrives with the ice for the VIP party at 9am.
Blackmore and Langdons delphiniums and begonias as splendid as ever. What nice people they are!
The RHS woody plant committee visits the stand.
Our sponsor, Guy Hands, arrives at about 9.30 – here he is tackled by the press about Wyevale garden centres which he is on the brink of selling.
Our celebrity, Susan Hampshire, has a tour of the stand with Gerry.
Susan Hampshire with a Chelsea pensioner.
Susan Hampshire with our rose.
Susan Hampshire and Guy Hands.
The press line up for the photo call.
The photo call with Susan, Guy and Gerry.
Lizzie and Justin look on with other VIPs!
Susan and yet another Chelsea pensioner. This one gets a kiss!
The press get more excited.
The Duchess of Rutland doing something odd with paeonies in a bath right next to our stand. Some disruption caused (by me).
The painted (and largely naked) lady who got into the bath with the paeonies. Justin has more revealing pictures which I will not show here!
Peace and quiet at a late lunch but we spy another lady in an odd costume. Lunch is sparse because the RHS have shut the exhibitors' restaurant. The pigeon did not mind!
Westcountry TV turn up for an interview rather late in the day but no worries.
Karol starts to take close ups of the key plants on the stand even before it is finished as these need to get onto the website by Tuesday to remind the public what they have seen and to inform those who did not have the 'luxury' of visiting Chelsea themselves.
2016 – CHW
We arrived in London about midday to find everything moving forward with the stand in good time. Rob Toy had arrived with the cut stuff much earlier and he was proving a dab hand at flower arranging in the new bowls and vases which made life considerably easier than it has been for some years. We have more than enough stuff to finish the stand and there is no need to panic this year. Even the Rayners water feature is in place although not actually working of course.
We have taken more orders already than in the whole of the last two Chelseas.  It is not like it used to be 20 years ago but bloody good and the orders are rolling in off the internet at the nursery.I take Jill Otway, organiser of the Plant of the Year,  for a liquid lunch using the last of Guy's pink fizz to thank her for all her help with our entry.  We smoke away happily outside the exhibitors' tent and ignore the RHS bosses who frown on such things.
Finally, on to the Cornish Club dinner at the Travellers Club.  My brother and I agree we are totally knackered and head swiftly to bed without the port.
1992 – FJW
George Williams at Chelsea – garden still good but HOT with E wind and dry.
1981 – FJW
Visitor laid an EGG in Maurices suite (George Blandfords bedroom).
1909 – JCW
R roylei nice, C montana rubra good, bluebells nearly at the top, Montana ¾ of its best. Van Tubergens Iris are over.
1908 – JCW
R roylei nice, Montana rubra over.
1906 – JCW
A little pink May, a few Waterers, Azaleas in mid season I korolkowi on the wane. Bluebells on the wane or nearly. A little seed from Artemis under glass.
1904 – JCW
We are three weeks behind 1899, I picked some (most of ) the de Graaf under glass; moved two seedlings and some unflowered cyclamineus. Montana is nearly at its best.
1899? – JCW
A few I lorteti, most of the I pavonia, all the A altaclarence. Bluebells very good, primroses nearly over. No waterlilies.
1897 – JCW
Pink May at their best, also Iris siberica and waterer rhodo's. Iris lorteti open, a large lot of roses out, nearly all Azaleas open. Bluebells going over, primroses gone, a few waterlilies at Beech Walk, none in the Big Pond. Gibsonii Rhodo going over.