2018 – CHW
Some pictures of the Chelsea build up.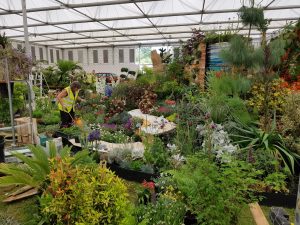 Karol starts to take close ups of the key plants on the stand even before it is finished as these need to get onto the website by Tuesday to remind the public what they have seen and to inform those who did not have the 'luxury' of visiting Chelsea themselves.
2016 – CHW
We arrived in London about midday to find everything moving forward with the stand in good time. Rob Toy had arrived with the cut stuff much earlier and he was proving a dab hand at flower arranging in the new bowls and vases which made life considerably easier than it has been for some years. We have more than enough stuff to finish the stand and there is no need to panic this year. Even the Rayners water feature is in place although not actually working of course.
We have taken more orders already than in the whole of the last two Chelseas.  It is not like it used to be 20 years ago but bloody good and the orders are rolling in off the internet at the nursery.I take Jill Otway, organiser of the Plant of the Year,  for a liquid lunch using the last of Guy's pink fizz to thank her for all her help with our entry.  We smoke away happily outside the exhibitors' tent and ignore the RHS bosses who frown on such things.
Finally, on to the Cornish Club dinner at the Travellers Club.  My brother and I agree we are totally knackered and head swiftly to bed without the port.
1992 – FJW
George Williams at Chelsea – garden still good but HOT with E wind and dry.
1981 – FJW
Visitor laid an EGG in Maurices suite (George Blandfords bedroom).
1909 – JCW
R roylei nice, C montana rubra good, bluebells nearly at the top, Montana ¾ of its best. Van Tubergens Iris are over.
1908 – JCW
R roylei nice, Montana rubra over.
1906 – JCW
A little pink May, a few Waterers, Azaleas in mid season I korolkowi on the wane. Bluebells on the wane or nearly. A little seed from Artemis under glass.
1904 – JCW
We are three weeks behind 1899, I picked some (most of ) the de Graaf under glass; moved two seedlings and some unflowered cyclamineus. Montana is nearly at its best.
1899? – JCW
A few I lorteti, most of the I pavonia, all the A altaclarence. Bluebells very good, primroses nearly over. No waterlilies.
1897 – JCW
Pink May at their best, also Iris siberica and waterer rhodo's. Iris lorteti open, a large lot of roses out, nearly all Azaleas open. Bluebells going over, primroses gone, a few waterlilies at Beech Walk, none in the Big Pond. Gibsonii Rhodo going over.