2019 – CHW
Mrs Williams and Mrs Clarke hiding (exhausted) in the shade outside the exhibitors 'tent'.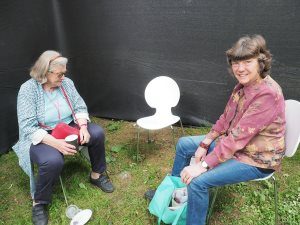 Mary Berry and a BBC producer using our stand for filming. I have met Mary before and she is exceptionally pleasant.
We were also filmed by the BBC with a comedian, Ben Miller, who had a problem with the dry sloping bank in his garden. Soon (after six retakes) I sorted him out with our Burncoose logo in all the shots and four decent plants. Sadly I have no pictures.
2018 – CHW
While I have been away at Chelsea, Jaimie has been busy keeping up to date in the garden here. Enkianthus 'Wallaby' has proven to be rather a shy flowerer but I fear we have it planted in too much shade.
Jaimie has mulched the main Rhododendron williamsianum clump and removed the wire netting from around the group as they are now large enough to stand on their own two feet.
2017 – CHW
Judging started at 7.30 but they only get to us at 9.45. Not a long session and a quick vote without much fuss which is hopeful.Then the media frenzy with our celebrity, Gemma Arterton, and her sister who is even prettier. Gemma is perhaps best known as the Bond girl in 'Quantum of Solace'. At least 50 press photographers and camera crews assemble half an hour before the photo call at 10.45.The bar is opened by our sponsor, Guy Hands, a little before this with a flurry of pink champagne. Gemma stays for nearly an hour and the press go mad. So does the drinks party and I have to retire under a tree to recover before the Queen arrives and the gala evening with yet more champagne.
John Hill from Burncoose Nurseries, Gemma Arterton, Gabby Evans from the Prince's Trust Enterprise Programme, Charles Williams from Burncoose Nurseries, Hannah Arterton and Guy Hands from Terra Firma
Alan Titchmarsh visited The Great Gardens stand at Chelsea to promote their new book 'The Great Gardens of Cornwall – The People & Their Plants'.In the picture are, from left to right: Lorna Tremayne (Heligan), Alan Titchmarsh, Lucinda Rimmington (Caerhays), Tim Hubbard (the author), Charles Williams (Caerhays) and Jonathon Jones (Tregothnan)
2016 – CHW
We do a stand group photo before Rob and Louisa depart with the lorry. Justin is erecting a model spitfire on the Tregothnan stand which looks about as ridiculous as the orient express. Apparently it came from the roundabout in Truro.
We get rid of the last plants and are effectively finished more or less by midday although we do not leave until evening.The night before we all went to the Blue Lagoon restaurant in the old fire station in Kings Road where we observed innumerable bright young things strutting their stuff. Highlight was the arrival of some film star (who Gerry was able to identify) in a private room with glass frontage which enabled us to look up the ladies' very very short skirts – that shut even Justin up.
Wolfgang Bopp arrives to inspect the stand not realising that I already know he is the head of our judging panel as he has been for the past five years. He is surprisingly complimentary and asks about new plants – this is a good sign.
2015 – CHW
So back to normal and the first real foray around the garden for eight days.  It is staggering how much new growth has appeared in a week. The grass and trash which was ankle high is now knee high in places so it must have rained a bit.  Staggering too how much has gone over in a week especially the wisterias.Bees swarming the front door which Jaimie is trying to catch as they vanish through the vent and are now buzzing under our bedroom.  Big (paying) wedding on the lawn tomorrow so we do not want them in the bridal veil.Above all peace and quiet after London.  The dogs are happy even if it is only a photography trip.  Pure enjoyment all round and how we have missed it.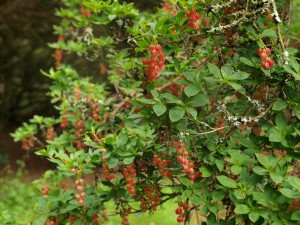 Our original and true to name Enkianthus cernuus rubens is now dead but, unknown to me, there are two further plants just below it.  These correctly have the anthers and stamens protruding below the rim of the bells.  The only species to do this.  These two plants have flowers which are not nearly so dark a red as the deceased one.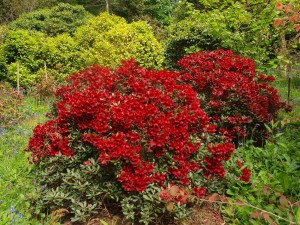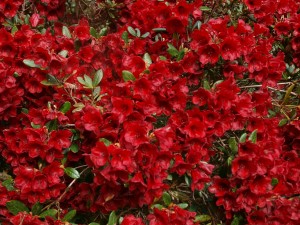 A clump of three Rhododendron didymum x ? hybrids by the Magnolia veitchii are covered in flower.  Never seen these as good.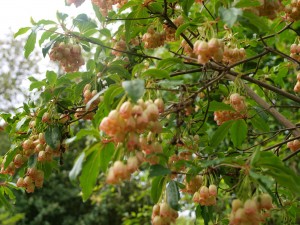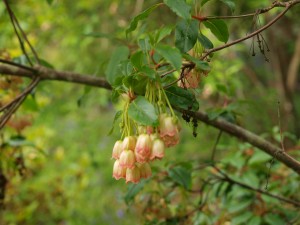 Nearby is a very erect enkianthus with quite the largest flowers of any seen this year at Caerhays.  Presumably a form of Enkianthus campanulatus but no label.  Propagate this! Much larger flowers than the wonderful cut branches from Burncoose on the Chelsea stand.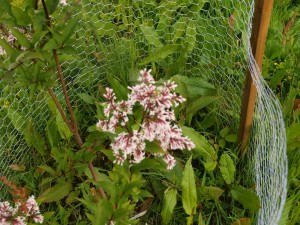 Syringa  yunnanense bought this year from Glendoick is quite nice.  It is recorded here in 1919 but I have never seen it in flower before.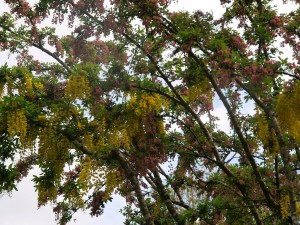 We have two plants of Laburnocytisus 'Adamii' planted in 1991 which are currently full out.  A strange cross between a laburnum and a cytisus which ought to be genetically impossible but grows oddly as you might expect.  Some might call it horrid and I would agree but if you like bastards this is for you!
1934 – JCW
I have just caught the best Azaleas, that is the deciduous ones. Magnolia wilsoni is at its best.
1917 – JCW
C m rubra about out. R yunnanense is good in the big beds. Standish hybrids are good and so Sappho x auklandii, Roylei just opening, but a very few Azaleas open. Azalea amoena is good. Azalea mollis comes on. Augustinii over, Auklandii on the wane. Broughtonii section are good.
1913 – JCW
Montana rubra long over. R yunnanense continues good very, been out 2 weeks and is the best thing. Some Broughtonii hybrids hold on, Standish hybrids good. Some Yunnanense x Roylei are opening. R augustinii well over. Azaleas and Mrs Butlers in the beech Walk are good.