2020 – CHW
A day (at last) of meetings and a degree of normality. I have now got the handwritten garden diary up to date – or to 30th April anyway.
'Distanced' garden tour here with James & Sarah Williams from Tregullow.
Physocarpus opulifolius 'Diabolo' at The Vean looking at its absolute best. 6-7ft x 5-6ft after 12 years of growing away on the drive. It could do with a pruning in the autumn.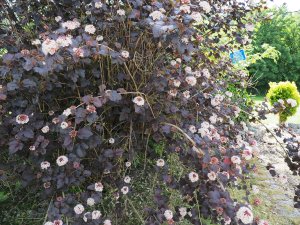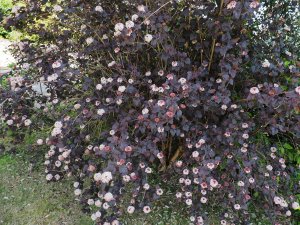 Cornus kousa 'Satomi' has come on a lot in a week since we last saw it but still not quite yet at its best.
Cornus hongkongensis with tiny flower bracts just starting nearby 'Satomi'.
Styrax formosanus var. hatayanus just coming out in Kennel Close. The Styrax are rushing on in the heatwave we have currently.
Magnolia 'Porcelain Dove' now has decent flowers out and loads more buds to come.
The younger plant of Schefflera macrophylla which I showed to JPW today as a new idea for Tregullow planting.
You can readily tell and see that we have not had any visitors for 10 weeks now! And we will not be opening again this year so time to put all the seats away in the dry for next season.
Pedigree Saler cows and calves in Little Barn Hills. Salers have white ends to their tails. These are very high class cattle.
This lot of 30 bought in calves (sterks) are not! Mixed ages and breeds and in need of a good lot of grass to progress. Unless it rains the grass will wither away. Two-hundred bales of silage in the yard and silage pit full.
Azalea pontica at the top lodge is out and over in less than a week in this heat.
Syringa x josiflexa 'Bellicent' nearly full out on the drive.
Deutzia x elegantissima 'Rosealind'
Azalea narcissiflora is now full out as a very elder clump.
One of the young Saler bulls.
Azalea 'Hotspur Red' full out and excellent today.
Magnolia 'Large Yellow' is still nicely out. Its flowers are not that large really by today's standards but it was an early named yellow variety and is still worth growing as it flowers so late.
When we cleared Old Park in 2010 to 2012 we left a few clumps of this once plentiful ponticum hybrid which has never had a name. The flowers are a fine show from afar today and close up have a yellow centre. It easily grows to 30ft so is more than just ponticum and was clearly planted in profusion in the period 1905 to 1930 as the garden in Old Park developed.
A nice young group of Rhododendron 'Treberrick' which was bred here and named after a farmhouse on the estate. If these were cutting grown, as I suspect they were, Asia should try again with the original plant above the old Orchid House Nursery.
Rhododendron concinnum Pseudoyanthimum Group is one of Alan Clark's raisings and in the new species section of Old Park. Quite pretty but fades in colour.
A nice new clump at the entrance to Old Park of Rhododendron 'Penvose' which is a Caerhays hybrid between tethropeplum and cinnarbarinum. The old plant fell over and died so Asia needs to try these from cuttings ('Polgrain' is the same cross but darker in colour). The flowers start out white and then turn a gentle mauve. Very attractive.
We saw what a late frost had done to the Gunnera plants nearest the bottom of the hill a fortnight ago. The other side of the hedge shows similar frost damage to emerging leaves on a young magnolia. Clearly it has been strong enough to recover and develop further decent leaves.
The first time Cercis canadensis 'Flame' has flowered properly in Kennel Close. Quite a pale flower in reality.
Magnolia 'Southern Belle' is nearly as fine as Magnolia 'Summer Solstice'. The outer tepals are pink at first. Here there is a flower on the very top twig of the plant some 12ft up. This is certainly one to propagate for the future. It looks like a cross between Magnolia obovata and Magnolia sieboldii but with a much larger flower than M. 'Summer Solstice'. Still a bit shy to flower with only five flowers today but this may improve.
Pale mauve new growth on Saxegothaea conspicua. You would have expected it to be light green and, indeed, on other plants in dappled shade it is!
Sorbus wilsoniana in flower for the first time.
Schefflera macrophylla has lovely brown 'velvet' on its new growth as it emerges above its gigantic leaves. A sure fire winner and seller.
Schefflera aff myriocarpa has light green new growth spikes and is doing fine. Not listed in 'New Trees' but from Crug.
Schefflera pauciflora was only planted this year or last but it too has a small flush of new growth. Oddly impressive?
We have one or two other species including Schefflera rhododendrifolia and Schefflera delavayi but I cannot remember where they are and need to hunt them out. Brain only half working still after Chelsea but all the 'thank you' letters now written and all potential new clients from the show written to as well. Quite enough scribbling for a bank holiday weekend. However I did enjoy the Exeter Chiefs win in the rugby championship final by three points in extra time. 20 all after 80 minutes. Tony Rowe, the owner, delighted and Robin Cowling (our friend) in tears on the Twickenham pitch.
2016 – CHW
A catch up with what the gardeners have achieved while we have all been away at Chelsea.They have nearly finished the laurel hedge below the ririeii opening along to the big michelia below the Donkey Show. An excellent job on a hedge that has not been cut back for 40 years. Quite a bit of space here for new planting next spring.
Rhododendron 'Lems Monarch' is just coming out where I parked the car as ankles still too swollen to walk properly.
2015 – CHW
A trip up the drive with the camera reveals elderly Rhododendron prinophyllums either side of the Four in Hand.  This is a late flowering US species of which there are several examples in the garden.  This one is early.  On the bank I spot the first small blue butterfly of the year but the dog flushes it before I can get a happy snap.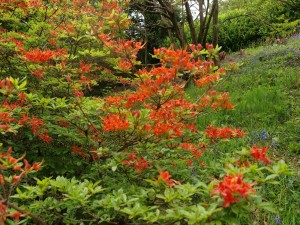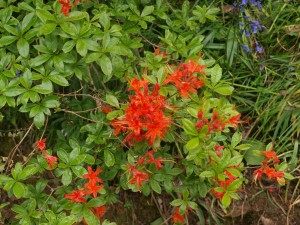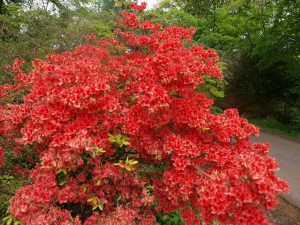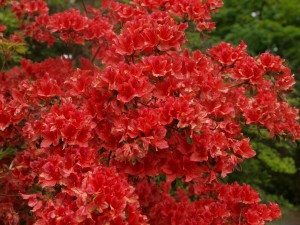 Below the main fernery is one plant of an old but exceptionally carpeted red evergreen azalea.  It has never had a name but we did propagate it and there is a new clump in the Auklandii Garden.  Well worth a name if it has not got one and propagating.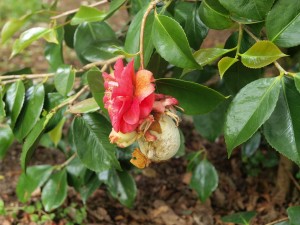 Here is a large gall attached to a very late flower on Camellia Lady Clare.  Galls are produced by an insect to feed and protect their eggs and larvae.  Perhaps commoner on azaleas than camellias they do no long term harm and are easily cut off.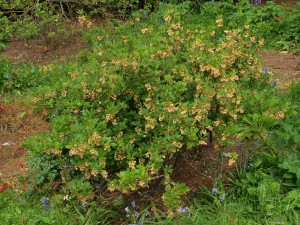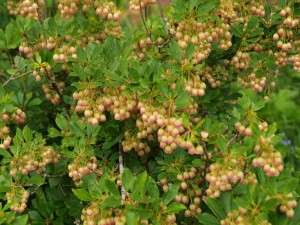 What we think may be a small growing, bushy form of Enkianthus chinensis on the drive is now fully out.  The colours are broadly similar to the two clumps photographed on Hovel Cart Road a few days ago but the habit is hugely different.  An odd plant which Koen from Arboretum Wespelaar may be able to help with now that I have written for help and advice on enkianthus.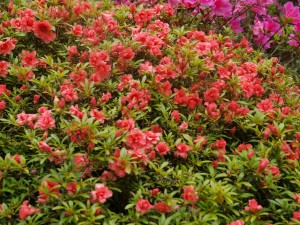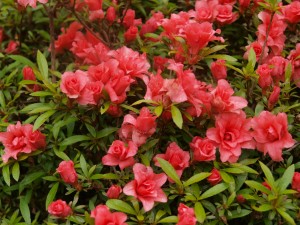 In the rockery are two original dwarfish and compact azaleas.  I have never known the name and they are clearly Rhododendron indicum leaves.  The double frilly orange flowers are superb. Perhaps Azalea 'Bungo-nishiki' which is indicum x kaempferi.  A must to propagate anyway I do not recollect ever seeing this in flower before.  'Carpeted'!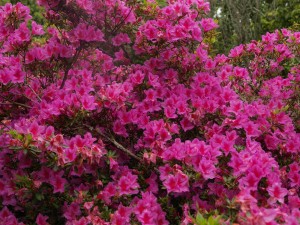 Next to it is the late flowering evergreen azalea which was always called 'Purple Triumph'.  I may even have planted it 40 years ago.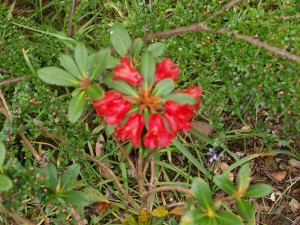 One flower on Rhododendron haematodes.  This is a replacement for long dead originals.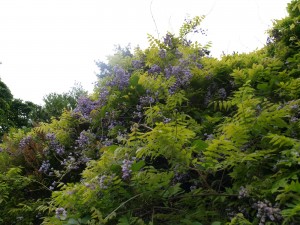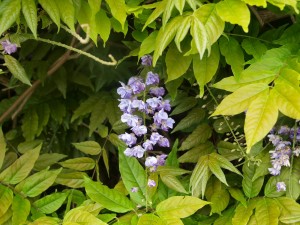 Wisteria 'Black Dragon' on the gents' loo just going over.  The flowers tend to be hidden by the foliage but the smell drowns out whatever unpleasantness the wedding party left in here.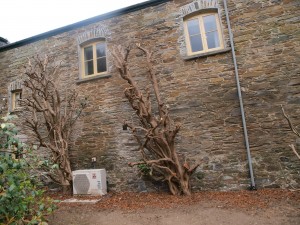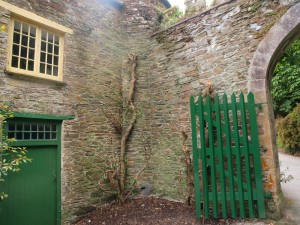 Michael and the new gardener have massacred the old camellias (again) around the Stable Flat.   An excellent neat job which needs doing every 15 to 20 years.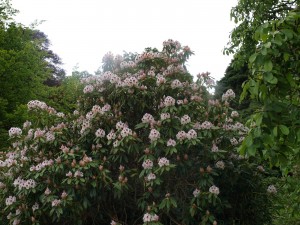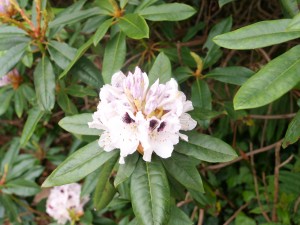 Rhododendron 'Sappho' on of the old original hardy ponticum hybrids is nearly full out outside the back yard.  There is nearly an acre of this gone native in 40 Acres Wood.  The back yard clump was once a pen for my rare Mikado pheasants which died of a nasty disease nearly 40 years ago.
1930 – JCW
I leave for Scotland tomorrow. Auklandii remain very good, flowers as a whole have lasted very with good mild weather. The Enkianthus were never so good as regards the established plants. Magnolia x nicholsoniana i.e the big one, very very good.
1929 – JCW
About ten days behind 1915. Ovatum is mostly open. Roylei are ½ open. Mag wilsoni, parviflora and nicholsoniana are very good.
1915 – JCW
All the thorns are very good. Montana (white) and Chrysocom as good, also Azaleas. Rhodo's other than Waterers mostly over except Ovatum, Roylei and Formosum.
1897 – JCW
The pink thorns are nearly over, we have picked about a third of the daffodil seed.