2019 – CHW
Jaimie caught this picture of Cornus controversa with the last of its full yellow autumn display. This is a self-sown seedling of the nearby elderly Cornus which we had believed was Cornus bretschneideri but Hillier's recently disputed this and said it was C. controversa when we supplied them with another self-sown seedling. I remain a little unconvinced. All blown away now anyway.
The first fully open flower on Camellia x williamsii 'JC Williams' beside the Rockery. Compare this to last year and very similar timing. 'St Ewe' has, in recent years, been out a month or so earlier than 'JCW' but 'November Pink' normally wins the race to be the first named x williamsii out in flower.
2018 – CHW
Horror of horrors the Magnolia campbellii seedling below the main path is bursting into flower. Frost today so that will be the end of the flowers. After the 'Beast from the East' one might have hoped that they had learnt their lesson about flowering early! It has not been that mild an autumn by recent standards with a few frosty snaps and the recent blast of easterly winds. Hopefully no more magnolias will try to jump the gun. On reflection perhaps this is some sort of record?
Umbellularia californica is also coming into flower. Hillier's says it flowers in April so another plant being fooled by the seasons. Perhaps the very dry summer? The ground is still pretty dry today.
2017 – CHW
It is amazing how a blue hydrangea can turn and fade into such extraordinary dark colour. Mainly dark red but with some greens. Three blue flowers still remain at the top of the bush.
2016 – CHW
Off to check autumn colour on the main styrax species planting which proved to be a dead loss as most are still entirely green today.Styrax formosanus var formosanus is just turning yellow and the seeds are now ripe and starting to fall.
Styrax faberi has largely fallen but there was little, if any, colour before they all did as you can see. Seed long gone and fallen here.
A surprise Camellia 'Takinini' with just one rather battered double reddish flower. A plant only put in this year in a very open place.
Camellia x williamsii 'George Blandford' has one flower out but too high up to photograph. Camellia 'Caerhays' not out yet.
2015 – CHWFuchsias still in full leaf and flower beside the gents' loo.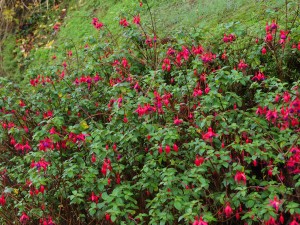 1998 – FJW
Many flowers on Camellia November Pink – very wet year continues – heavy rain but worse in Wales.
1971 – FJW
First November Pink in house. Leaf still on Beech Walk oaks. A very dry autumn.
1916 – JCW
Erica hybrida and Erica codonodes are opening. C sasanqua is fair. Have picked a good deal of rhodo and azalea seed but some is not ripe yet such as Mrs J.C. Williams and Azalea viscosum, just the worst weeks for rhodo flowers.