2017 – CHW
Ripe yellowish orange berries now on Pourthiaea beauverdiana var. notabilis.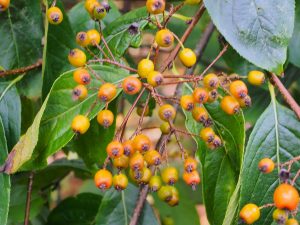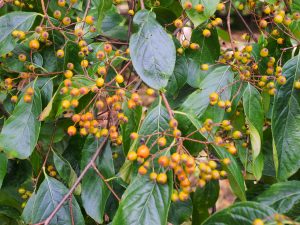 Half rotten and slug eaten secondary flowers on Magnolia 'Yakeo'.
Huge and very advanced buds on Rhododendron 'Pink Polar Bear' which flowers in July! Getting its seasons wrong I fear.
2016 – CHW
The formal registration certificate for Rhododendron 'Red Centurion' has just come through. One of my father's hybrids which we have registered to commemorate the centenary of the RHS Rhododendron, Camellia & Magnolia Group.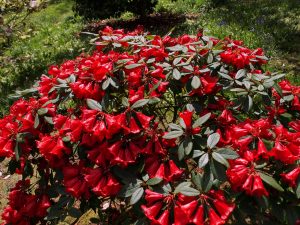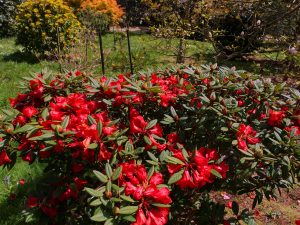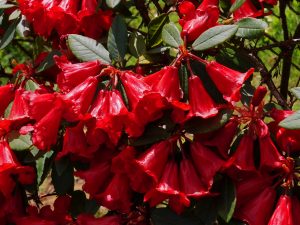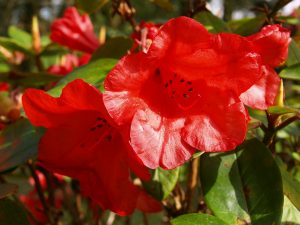 2015 – CHW
Few people ever venture along Sinogrande Walk to the largest (of the two) tree fern quarries where some 25 mature Dicksonia antarctica nestle in the quarry well protected from most winds and happily self 'seeding' up the banks. One tree fern is simply attached to the damp rock face and its trunk or roots have no contact with the soil at all. It derives all its nutrients and moisture from the damp rock face itself. This would be almost impossible to believe if you did not have the actual evidence in front of you. Now a mature and well established plant.
2002 – FJW
Sasanqua just coming – first to flower Pink by side door then A G white.
1933 – JCW
Mag delavayi decorum is good and so is neriiflorum. Heavy rain.
1929 – JCW
Hoheria on the terrace is the best thing with the cyclamen. Fuchsias are good and worth more care. Lapagerias are fair. No planting yet the ground has been so dry.
1927 – JCW
Decorum, Royleii, Neriiflorum well out. Several bits of the Impeditum set. A good Maddeni hybrid in the New Planting. Hydrangeas very good indeed.
1925 – JCW
Some Decorums (Delavayi's) open and Haematodes and bits of other things. Far the most brilliant plants are the Enkianthus japonicas. Some Sasanqua's open.
1919 – JCW
The first Sasanqua is open. The hydrangeas are very nice. There are some fair roses, one heath is open but there is not much in flower otherwise.
1910 – JCW
Cyclamen and hydrangea are going over. Some Camellia sasanqua coming out, some roses opening. Solanum is good. Some daffs are up.
1902 – JCW
I saw the first C coum open.