2019 – CHW
Acer campestre 'Red Shine' still with red secondary new growth. This is an excellent form of the field maple which Burncoose ought to stock.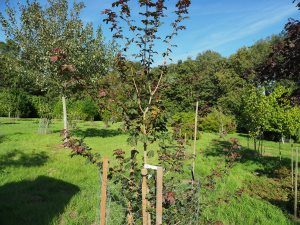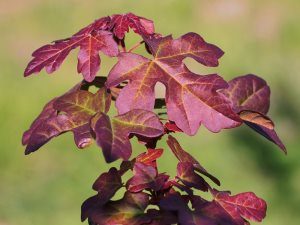 Magnolia sprengeri 'Dusky Pink' was a gift and is a wild collected form. It hated the drought last year but had its first superb single flower this year and then looked to be dying. A good dollop of dung in the spring has revived it and seen good subsequent growth this year despite another dry summer. A stitch in time!
Huge flower buds showing up already on Magnolia "Rebecca's Perfume".
Time for Asia to collect the relatively few seed pods this year on Magnolia sargentiana robusta and Magnolia mollicomata on from Georges Hut. The seed pods are already shedding and I see three young squirrels today. Despite all our culling a new crop of tree rats are moving into the gardens from the hedgerows now that the corn is cut.
These buds on a Camellia sasanqua 'Snow Flurry' (I think) are very close to being out. Two to three weeks?
2018 – CHW
To Leslie Baker's wonderful garden in St Austell last Friday to make some plant care video clips for the Burncoose website. The garden is immaculate and includes several of the herbaceous borders which we do not have ourselves to photograph. Karol has new video filming equipment and Gerry, back from maternity leave, is taking the leading role. We complete 13 new videos about pruning and tidying herbaceous plants after flowering and in preparation for autumn.The best things in Leslie's garden flowering today are:
Hedychium densiflorum, the orange (rather than yellow) flowering form. Here we grow Hedychium gardnerianum which has a much larger white flower panicle with yellow splashes at the base. It may well be that Leslie's plants are H. densiflorum 'Assam Orange'.
Anemone x hybrida 'Honorine Jobert' – enormous clumps growing up to 4ft in semi shade and full out today. Pure white with golden centres.
Anemone hupehensis 'September Charm' – very free flowering clumps of which some are on poorish soil but still performing well.
Anemone hupehensis 'Queen Charlotte' – some larger flowers are semi-double and a darker pink than 'September Charm'.
Japanese anemones are an absolute must for every garden in September.
2017 – CHW
Building work on the conversion of the two barns at Newton Farm into two houses. The cob walls have largely collapsed and will have to be rebuilt so the project is eight weeks behind and due to finish now in late April (perhaps!).
2016 – CHW
Camellia oleifera will be out quite soon and there are plenty of buds.
Across the path one has to stop and admire the secondary new growth on Cercidiphyllum 'Red Fox'. Slow growing but with a fine upright habit and arguably the darkest black leaves of any small tree.
Alongside it is another summer casualty; Aralia elala 'Aureovariegata' has blown over. It had suckered everywhere with plain green suckers which we have been cutting out for years. Another variegated thing which my father hated.
The Clethra delavayi has died as well. It over-seeded heavily last autumn and tried to put on a few leaves before dying. These plants have very short lives of only 20 years or so.
2015 – CHW
Here is an example of the enormous versatility and colour range of hydrangeas. This started out as Hydrangea 'Altona' as you can see from one or two late flowers but just look at the colour variations in the mopheads as they die off. Greens, purples, blues – every colour but what it started out as. Perfect flowers to pick and dry quickly to retain their colours for a Christmas flower arrangement.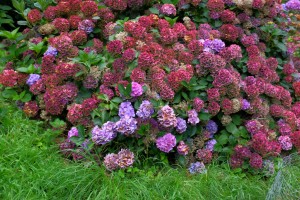 Below the Four in Hand yet more of the aucuba hedge is dying off. Some phytophtora peculiar to aucuba which infects only aucuba we are told. Defra has tested it scores of times all over Cornwall and have confirmed it is NOT phytophtora ramorum which primarily infects Rhododendron ponticum. This patch started getting diseased when a large branch fell on it. The clear up meant cutting back the aucuba and the infection has clearly spread more quickly on the cut areas where the zoospores meet sap seeping from cut stems.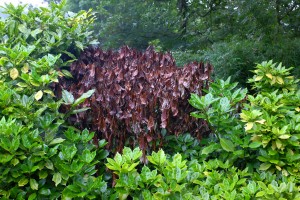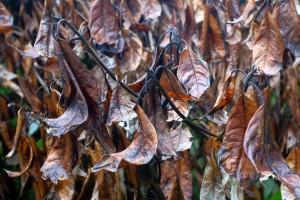 2001 – FJW
Last of harvest completed. Disaster in New York.
1988 – FJW
Last corn cut and in (250 acres).
1980 – FJW
Corn in – 50 more acres than ever – say 280 tonne.
1977 – FJW
All grain in – some straw to come. 140 acres, good yield – tricky weather and 2 Sundays worked.
1927 – JCW
Came from Scotland for one day. The cyclamen are wonderful. Hoheria with a narrow leaf is nice. Roses good. Eucryphia cordifolia good but needs more sun. Odds and ends of rhodo's open.