2017 – CHW
David West from Fromefield Nurseries thought this was Cotoneaster frigidus 'Inchmery' when I photographed it last year. The fruit is not plentiful and certainly is not ripe yet but it is yellow now and seems to want to turn pink. I must remember to send fruits to David.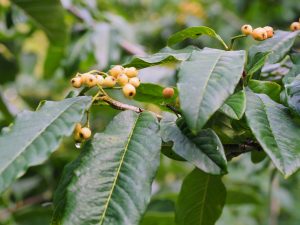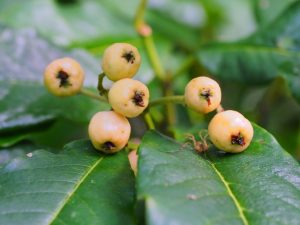 2016 – CHW
A new to us Daphniphyllum glaucescens has made an excellent small tree. Very different leaf structure to other species and clearly likes being in full sun.
The rare Nyssa ogeche is also doing well beside it unlike the one on the drive which is much older but has constant dieback each winter. It has not sold well yet in the nursery so we need to see what this species can do in semi maturity to make us recommend it. Odd but distinct leaves with a blueish hue.
Sorbus 'Elenarae' has also been well nibbled by deer but it has most attractive spotted bark on the new growth together with reddish new growth. I need to look up who gave us this oddity or did I buy it? Not in Hillier's or New Trees.
2015 – CHW
A few seeds and berries today.
Stachyurus praecox, although nibbled by deer, is displaying large green seedpods on long tassels. Strangely next spring's new flower spikes are already much in evidence.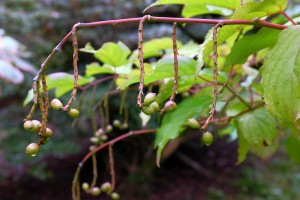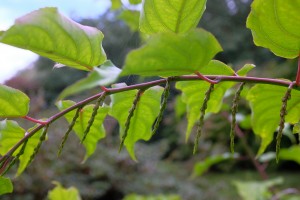 Sorbus folgneri 'Emiel' has fruits forming in profusion but they have yet to turn orange and red. One to look out for if the pheasants leave them alone.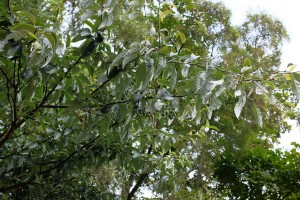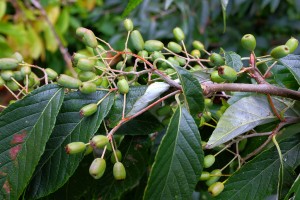 Stewartia rostrata is starting to run its trademark autumn colour with leaves turning reddish black and its seeds developing red calyxes. I cannot think of another tree which turns this extraordinary colour and pleasantly early in the autumn too.  We have a whole section of
plants to buy that are wonderful for autumn colour at Burncoose
.
2005 – FJW
Picked the first Camellia sasanqua flower.
1998 – FJW
Harvest complete. Latest for a long time.
1917 – JCW
Just as above, the rhodo's now open are Decorum, Neriiflorum, Scintillans, Felonateium, 10278, Flavidum, Intricatum, Rupicolum, Hippophaeoides, Trichocladum, Fastigiatum and Barum (=10423).
1916 – JCW
Hydrangeas, cyclamen and cassia are all good. Lapagerias nice, several (6-7) species of mountain rhodo's in flower.