2018 – CHW
The Lapageria 'Picotee' has suddenly produced a huge cluster of flowers 10-12ft from the ground and growing up over some Camellia sasanqua. Quite the best it has ever performed.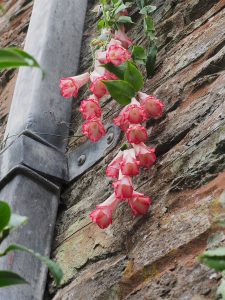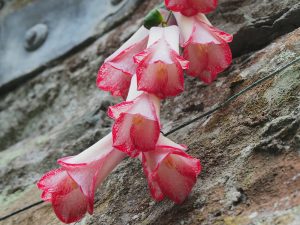 Lindera lancea (Lindera umbellata var lancea perhaps) is producing a wonderful show of yellow autumn colour. Planted in 2011 it is now romping away with next year's new growth (or flowers?) clearly visible at the tips of the twigs. A hard frost could do some damage here.
Ilex cornuta is doing pretty well too nearby. A very dense habit indeed. Suitable as a hedging plant I suspect.
2016 – CHW
Just look at the multitude of flower buds for next spring on Paulownia elongata!
Enkianthus serrulatus has a very distinct bronze tone in the autumn. Earlier and perhaps better than other species?
A young seedling from our now long dead original Acer forrestii is doing well. We have planted many out but I can never find them. The reddish secondary new growth gives it away.
2015 – CHW
A good specimen of Acer campestre which I think I planted as Acer campestre 'Carnival' which is supposed to have creamy white margins to the leaves. These are nowhere to be seen today but white variegation is often irregular or patchy and may only be apparent in spring. The tree has a compact habit with delicate and intricate leaves which will soon turn yellow.