2018 – CHW
Our tree felling in Dry Walls in nearing completion with quite a pile of firewood to go into the compound at Trewolla. It may be that it only gets moved out next spring as the forecast now is (at last) for some decent rain.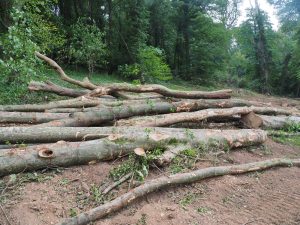 We have dug out the drought killed large Fuchsia exorticatica outside the front door and replanted with three Daphne bholua varieties behind the Rhododendron fragrantissimum which seem to have survived. Heavy mulching with well-rotted dung around the Daphnes and bark mulch on the rest.
2017 – CHW
Amazingly the taller growing form of garlic which lives under the biggest Magnolia x veitchii is already showing above the ground. Staggeringly early I think. Normally it would not show until January.
2016 – CHW
A botanical trip of some duration around the garden with the youthful but hugely keen and knowledgeable James Garnett from the
Botanic Gardens in Nantes
. James is 'one of us' when it comes to rare trees and it will be interesting to observe his career which I suspect will be spectacular in the horticultural world. He went away with loads of seeds and cuttings and just a little wine.Lithocarpus pachyphyllus was laden with seed pods several of which had already dropped. We ought to sell a crop as substantive as this.
Rhododendron 'Tally Ho' is late flowering and hence the bronzy indumentum on the new growth was at its best.
Castanopsis chinensis was planted in 2007 and has made slow progress with dieback but is now in full flower.
Lithocarpus lepidocarpus has grown much better nearby above the greenhouse. Cutting material here for Asia to try.
James said this had to be a rhus species as it is about to flower but I cannot sadly find it on the planting plans by Tin Garden. First time flowering anyway.
2015 – CHW
Passiflora caerulea 'Constance Elliott' has grown rampantly in a Camellia sasanqua on the castle wall. It will flower on until the first frosts and has been out for months already. Rather tougher and more vigorous than Passiflora caerulea and something to cherish although it comes from Brazil and Argentina.
There are a few remnants in the borders from my childhood fuchsia collection. JCW also collected fuchsia species and hardy hybrids. Only the toughest and most boring have survived and many have got squeezed out by more vigorous varieties. This border used to have perhaps 50 varieties. Today there are perhaps a dozen and I readily admit to having forgotten all the names.
2000 – FJW
Very wet September. Now turned to storms. No Sasanqua yet to be seen. Neighbours corn not cut yet. 50 years ago we would have left the harvest.
1940 – CW
Eucryphia mooreii very good and has been for a week. This year probably the finest harvest known for years but plants have suffered badly.