2018 – CHW
Sheep have found a crab apple tree with plenty of low hanging fruit in a hedge and are enjoying the rather bitter taste.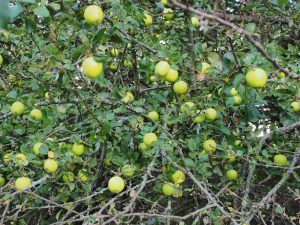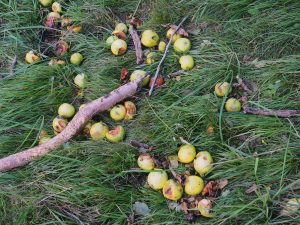 A group of Betula utilis var. jacquemontii growing in a garden in Northumberland. A wonderful effect from the tree trunks all together in maturity.
What I think is Sorbus aria 'Majestica' with huge leaves and still green fruits.
Plenty of early ripe seed heads on an old Camellia japonica variety.
Lots of seed on Magnolia 'Mr Julian'. Probably the most that I have seen on any magnolia tree in the garden this autumn.
A young Acer x conspicuum 'Phoenix' has very special autumn colour which goes well with its exceptional striped bark. Is it better than the Acer conspicuum 'Silver Cardinal' at Burncoose?
A filthy day all day. The puddles persist!
2016 – CHW
The best thing in flower in the garden today is the mature Schima khasiana. We have Schima argentea and Schima wallichii in the garden but they are younger and not out. I am confused by the three species which do not actually look that different. The resemblance with Camellia oleifera in the flower is striking. Some scent with the schima flowers but only close up.
2015 – CHW
Lapageria rosea out by the front door. A sad remnant of a once huge plant. We think of lapagerias as flowering in autumn but in The Garden diary notes of 80 to 100 years ago these are commented on as being frosted in January. Winters seem generally to have been colder then so why were they flowering much later than now. Has this Chilean (and really greenhouse plant) adapted to our Cornish climate?
1918 – JCW
Rhodo's as below. Cyclamen very good. Lapagerias fair. Hydrangeas fair.
(Hand written note attached to Garden Book page)
Rhodo's showing more or less flower at Caerhays Sept 27 1918
R neriflorum, R haematodes, R cuneatum, R ravurn, R lutescens, R hanceanum, R dichroanthum, R websterianum, R fastigiatum, R oreotrephes, R saluense, R hippophaeoides, R scintillans, R telmatium, R impeditum, R decorum, R rupicolum, R primulicum, R racemosum, R lepidotum, R trichodadum, R intricatum, R leoides, R ponticum.
1919 – JCW
All above rhodo's in flower except R dichroanthum, R ponticum, with additional ones of R waterii, R adenogynum, R valentinicium, R auriculltum, R maddeni, R saluense, R davidsonianum , R baylei.