2021 – CHW
After an extremely warm, dry and benign 'Indian' summer all through September the temperatures have now dropped and it is much more autumnal.
The lacecap Hydrangea 'Lanarth' by the Green Gate with a secondary flush of flowers.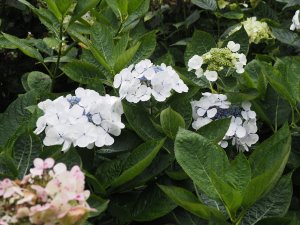 Hydrangea 'Lanarth' and Hydrangea 'Madame E Mouilliere' together.
Cotoneaster franchettii with loads of, as yet, unripe berries. This species is now famed for its ability to absorb carbon in city streets with heavy traffic pollution.
Hypericum lancasteri is now flowering away despite the severe dieback it had (and a subsequent trimming) after the cold in March. A great recovery!
Hydrangea aspera 'Robusta' is always at its best in early October. Now at least 10ft tall.
Autumn colour showing up on the old plants of Rhododendron mucronulatum.
No seedpods at all on this elderly Magnolia dawsoniana and you can still see why here. Flowers (and leaves) frosted badly in late March / early April and a few remain in place. A few buds for next year but not many as the tree has put its energy into recovery and reducing dieback.
The slugs are already turning the magnolia leaves nearest the ground into (winter) skeletons by removing the fleshy green from the leaves.