2020 – CHW
Crataegus laevigata 'Gireoudii' – a top grafted plant loaded with fruits.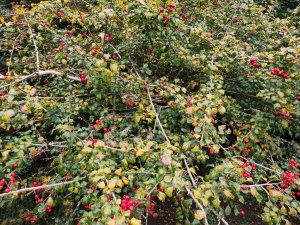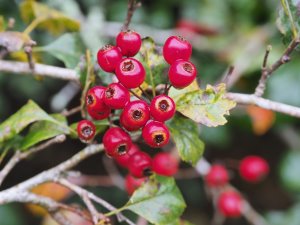 Top grafted Sorbus reducta with a fairly small crop this year.
A surprisingly good (secondary) flower on Magnolia 'Ossie's Yellow'. A first for this variety here and two more buds to open.
I have sadly missed the flowers on Pterostyrax psilophyllus var. leveillei but here are the dangling seed clusters beneath the trilobed leaves.
Flowers just coming out on Clethra pringleyi. This plant is four weeks later than another in the garden.
This is another example of what Disanthus cercidiphyllus should look like in autumn.
But another of these difficult plants to get going is dead next door.
Xanthoxylum armatum has small reddish juvenile prickles but they soon develop into something really nasty on the more mature trunk and stems.
Ripe seed shedding already on Magnolia sieboldii.
Eucryphia moorii fell over in the 1990 hurricane but is now multi stemmed and 20ft in height. I have seen some flowers on this species in late spring at Burncoose and here I think but the full flush, as here, is probably the last of the Eucryphia species to flower with us.
This young Embothrium lanceolatum was planted directly on a stone bank where little else would live but, five years on, it is doing well but recently blew over and needed staking. Why do these plants do best in the most arid and inhospitable situations?
Schima wallichii has no flowers at all this year. It is about 12ft tall.
Another final grass cut at Tin Garden ready for the planting of the FJW memorial gardens next spring. The daffodil bulbs from Ron Scamp have arrived as ordered. All JCW or Lanarth bred varieties.
Of course the rotary cutter breaks down as Tim starts what will actually be the fourth grass cut this year in Kennel Close.
It would be easy to be very cross with Ross for smashing our original (true) Magnolia 'Lanarth' when felling large trees nearby. Such is his skill and precision as a master forester and tree surgeon that the site is really not a mess and, anyway, the 1950s tree was growing lopsidedly in shade. It now has the chance to reshoot properly although we will not see flower again for quite a few years. Cherish the new planting area for next spring and say nothing. Two more big trees to come down still. Note the wires and harnesses and the split beech trunk still stands.
Acer macrophyllum showing autumn colour of sorts. The Oregon maple is not new to Caerhays but the old plant is dead.
Schefflera frangipanensis (?) was a gift from Blarney Castle but collected in the wild. It has seed heads forming but a new flower head appearing at the same time. Odd!
Cornus 'Gloria Birkett' is again laden with fruits which are turning quickly. This is a very desirable form.
Sorbus folgneri 'Emiel' is plastered in fruit just changing colour from green to orange.
Sorbus reducta (top grafted) has a paltry four fruits.
Sorbus 'Pearly King' has sparse fruiting but some are changing from rose to white with a pink flush. Not many though!
Sorbus 'Hilling Spire' has only two clusters of yellow fruits quite high up.
So a pretty poor show on the drive anyway. Sorbus 'Golden Wonder' has zero fruits and Sorbus forrestii is bare too. All these plants, and several more, flowered well in the summer. In north Yorkshire the rowans are superb this year.
2016 – CHW
Trochodendron araliodes has plentiful seed pods in Old Park but they are not yet ripe. Collect in about a month I guess.
Stewartia rostrata in Penvergate is plastered in red seed pods but here, unlike on the drive, the leaves are only just starting to turn their autumnal reddish-black.
Tilia henryana is plastered in flower and nicely scented. Strangely the plant on the drive has no flower at all this year and you could argue the leaf shape is very different. I saw a plant in Durham recently with no flower either and much larger leaves. Less energy into flowering and bigger leaves with less pronounced leaf spurs as a result? I will catch up with the drive plant soon.
2015 – CHW
The very first flowers on Camellia sasanqua 'Rosea' outside the front door. I may have failed to find a camellia in flower in August or July this year but I certainly have found a camellia flower or two in July in the past. Which other genus could claim a flower in 11 months of the year?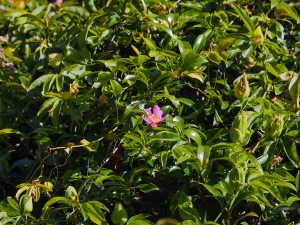 Actually you probably could find a rhododendron of sorts out in every month of the year but some of these would be second autumn flowerings.
Magnolias too probably span the full 12 months albeit only in a mild winter if you include Magnolia delavayi and Magnolia grandiflora and, more importantly, all the newer hybrids which do have a second flowering. I have featured these heavily in the past weeks but here is yet another: Magnolia 'Star Wars'. Unusually this year the second flowering is rather pale as opposed to being much darker than the spring flush.