2019 – CHW
Interesting to see what is still nicely in flower in the nursery in late September on a day of meetings at Burncoose.
Kniphofia rooperi has regularly been the last of the red hot pokers to flower.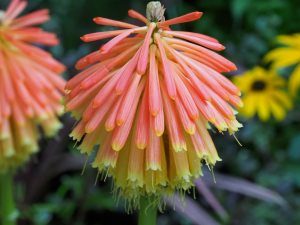 Lobelia 'Compton Pink' was still looking splendid in the cash point.
Colutea arborescens nearly over.
Calliandra surinamensis with its first ever flowers at Burncoose. A delicate 'fluff' of pink on a two year old plant. Tender but well worth it.
Grevillea 'New Blood' which was a new introduction for us a couple of years ago is a splendid red.
Lagerstroemia indica 'Rosea' just coming out. Superb at this time of the year.
Berries galore on Pyracantha 'Saphyr Red' and 'Saphyr Orange' as usual even on small plants in pots.
And early autumn colours too starting to appear here and there.
Asimina triloba has leaves which are nearly yellow as those on the Cladastris kentuckea. They go yellow then nearly white before dropping.
Carya ovata turning early too.
Acer freemanii 'Autumn Blaze' quite superb on the tree lines.
Acer rubrum 'October Glory' not yet quite doing its stuff.
Abutilon 'Red Hot Lava' with its curiously veined orange flowers. A nice new batch for sale from our own cuttings.
Acer tataricum subsp. ginnala just starting its vivid red autumn colours at the tips of some twigs.
2017 – CHW
Sparse seeding on the wild collected form of Magnolia cylindrica. Some seed pods are rounded with only a few seeds. Others a more normal magnolia seedpod shape.
Fruits on Cornus wcberi which is clearly a misspelling which I once sorted out but now forget. They are very red and rounded. Lots of new growth here from below the graft to remove or this plant will die.
2016 – CHW
Another mature castanopsis which may well be Castanopsis cuspidata has seed forming but not yet mature.
Sassafras tzumu has very distinct leaves and was well known to James in France.
Clethra pringleyi is another (the second) new species which we have missed in flower. Clearly tender, this plant has taken a while to get going.
2015 – CHW
One of the debates of the last decade has been when will the large Cryptomeria japonica which has been leaning and defying gravity for many years finally succumb to gravity? A tough old historic tree which can certainly be seen in pre World War I pictures of the castle.
A plant you often see in formal designed landscapes. We all enjoyed the Alan Titchmarsh programme on Belvoir Castle last Thursday outlining the Duchess of Rutland's attempts to recreate the 200 plus year old Capability Brown landscape which never got beyond the design and mapping stage.
Emma Rutland's book
is due out soon with, we hope, credits to Burncoose for creating a new woodland garden at Belvoir. Lots of photos of
Burncoose planting at Belvoir
can be found on the Burncoose landscaping section.
Verbena bonariensis is another 'last of the summer' herbaceous plant to cheer us up as well as the butterflies which seemed to be having a day off today which is rather overcast.
2002 – FJW
Very dry since mid August – a few showers but main rain has fallen elsewhere in the country. Not too hot but east wind.1969 – FJW
All grain and straw in – big rain hold up for fortnight and last 3 ½ acres.
1916 – JCW
The following rhodo's with bits of flower open – R scintillans, 10333. fastigiatum, racemosum, flavidum, intricatum, rupicolum, decorum, ponticum, and chrysanthum hybrids nobleanum and mikado.