2017 – CHW
The first camellia of the autumn is out! I have been looking but had missed this young plant which was only planted out in the spring. Camellia sasanqua 'Variegata' is variegated in both leaf and flower. Rather attractive I think anyway although my father hated all variegated plants.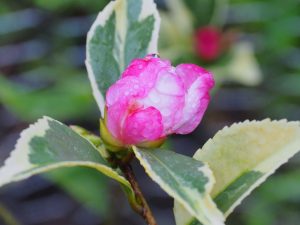 2016 – CHW
The Symplocos paniculata clump is plastered in lovely blue berries. Very few last year. Asia needs to get collecting seed at once. What a display!
The mushroom circle has appeared on the lawn again but not quite where it was last year.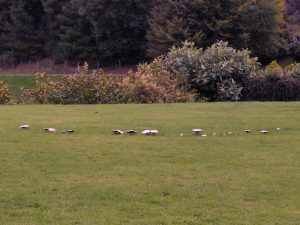 2015 – CHW
Three new photinias planted in 2011 from Crug Farm nurseries have all got fruit on them but the habit, fruit clusters and leaf forms are very different.
Photinia villosa var laevis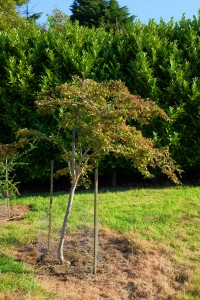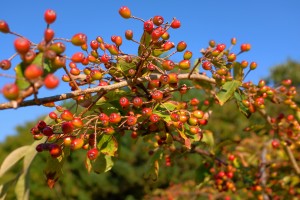 Photinia villosa var zollingeri
Photinia villosa var koreana
Quite an exciting new addition to the garden. I photographed Photinia var koreana in flower earlier in the year but missed the other two.
1998 – FJW
Sasanqua out. Same as 1992. Has been a wet September on top of wet year so far.
1992 – FJW
Home from holiday to find Sasanquas out.
1967 – FJW
Using the family spade as an Assegai, Neal Bruce Miller killed a pigeon in the Auklandii Garden.
1940 – CW
We are getting over a very long dry spell and had some rain 10 days ago but still very dry. I find even the cyclamen suffered badly. The magnolia in my old garden had over 25 flowers out on the 25th and now the berries on the best cornus have been good for weeks. Not much colour so far – Camellia sasanqua out on wall.