2019 – CHW
A garden tour in the drizzle for a group of 10 VIP Americans who were interested and enjoyed a bit of un-PC banter. We did not dare talk about Trump but I got the feeling that they might well be voting his way next year. I hope some will revisit us in the spring.
Vitex agnus castus only just out in flower. The Americans enjoyed the story about the true meaning of the name for the 'chaste tree' (see the plant care article on the Burncoose website for more slightly sordid but amusing details).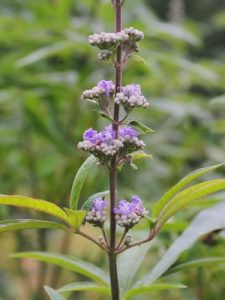 The old quince has just as much fruit on it as usual. Where the quinces are in groups of four they are smaller but, odd individuals on their own, are as large as apples. Sadly old Mrs Kendall who used to come to collect these each year to make her own quince jam is no longer with us. I DETEST the smell of quinces! Perhaps I should report an allergy or is this a 'ME TOO' moment?
Rhododendron 'Yellow Hammer' with its autumn flowering which is rather good this year. As good as the spring flowering I think.
Arbutus unedo full of flower nearby but all the strawberry fruits have already been eaten by the pheasants. This is one of the few plants which normally flowers and fruits at the same time.
The elderly Cornus controversa by Donkey Shoe has produced loads of seedlings on the bare ground where we cleared away an elderly oak and camellia last autumn. Jaimie has potted up a few before we strimmed the area but there are plenty more for Asia here if she has not plundered them already?
Rhododendron concatenans putting on a very good autumn show now. Again as good as what we expect in the spring and, hopefully, not instead of.
Hardly an old leaf survived the blasting but here is Garrya elliptica 'James Roof' in fine fettle with flower tassels developing.
Euphorbia mellifera looked dead but with a chop back it has now regrown and is nearly the same size it was a year ago. Remarkable resilience!
Daphne bholua 'Jacqueline Postill' was leafless and appeared dead in March. Now very healthy!
2017 – CHW
The first camellia of the autumn is out! I have been looking but had missed this young plant which was only planted out in the spring. Camellia sasanqua 'Variegata' is variegated in both leaf and flower. Rather attractive I think anyway although my father hated all variegated plants.
2016 – CHW
The Symplocos paniculata clump is plastered in lovely blue berries. Very few last year. Asia needs to get collecting seed at once. What a display!
The mushroom circle has appeared on the lawn again but not quite where it was last year.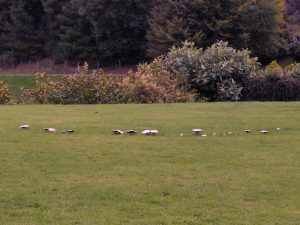 2015 – CHW
Three new photinias planted in 2011 from Crug Farm nurseries have all got fruit on them but the habit, fruit clusters and leaf forms are very different.
Photinia villosa var laevis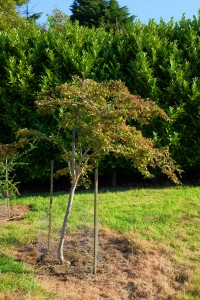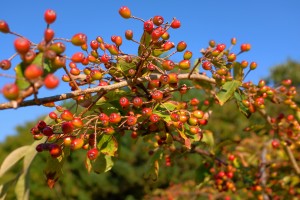 Photinia villosa var zollingeri
Photinia villosa var koreana
Quite an exciting new addition to the garden. I photographed Photinia var koreana in flower earlier in the year but missed the other two.
1998 – FJW
Sasanqua out. Same as 1992. Has been a wet September on top of wet year so far.
1992 – FJW
Home from holiday to find Sasanquas out.
1967 – FJW
Using the family spade as an Assegai, Neal Bruce Miller killed a pigeon in the Auklandii Garden.
1940 – CW
We are getting over a very long dry spell and had some rain 10 days ago but still very dry. I find even the cyclamen suffered badly. The magnolia in my old garden had over 25 flowers out on the 25th and now the berries on the best cornus have been good for weeks. Not much colour so far – Camellia sasanqua out on wall.