2023 – CHW
To the greenhouses to pick out plants for different locations for autumn planting.
Fruit on Viburnum nudum 'Pink Beauty'.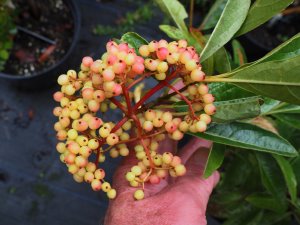 I was impressed with the first flowers on Malus trilobata. Here are the first fruits which Brock, the Labrador, decided that he liked and they are no more!
An unnamed climbing Fuchsia from a Tom Hudson collection is climbing up the leg of a propagating bench and flowering very late in the year. A vigorous climber for which we need to find a good site.
Asterotrichion discolor full out in one of the frames.
Weeks after I first saw a flower Lysionotus aff. kuangensis (HWJ 625) is still full out and with buds to come. Asia has propagated this already from cuttings.
Catalpa ovata with seed pods while still in a pot in the frame.
Bright red leaves here and there on Luculia gratissima (KR 11263) and flower buds forming. Important for Asia to propagate this.
Malus 'Direktoer Moerland'
Malus 'Gorgeous'
Malus 'Butterball'
Malus 'Red Jade'
Malus 'Royal Raindrops'
Malus 'Crimson Cascade'
Malus 'Sun Rival'
Malus 'Royal beauty'
Malus 'Royalty
Euonymus hamiltonianus 'Rising sun' with a great show on the sales point.
Escallonia 'Peach Blossom' still nicely in flower.
Aesculus x neglecta 'autumn fire' certainly living up to its name. I have not seen this performing before.
Aesculus x mutabilis 'Induta' with very tame autumn colour by comparison.
Cercis glabra with a good show of yellow. Contrasting nicely with the Chimonanthus praecox behind it which is still green.
Ilex verticillata berrying earlier than usual.
Itea virginica 'Henry's Garnet' also living well up to its name.
Gaultheria mucronata varieties making a great show.
Cornus 'Sunshiny Drops' with very ripe fruits.
Good autumn colour developing on Zanthoxylum simulans.
Quercus acutissima also eye catching today in a tunnel.
Podocarpus 'Golden Lady' is a new entry in the 2023 catalogue and soon available on the website. Still a bit small!
Schima khasiana is now out in flower but, again, very few flowers compared to last year.
Schima superba is however covered and many flowers have already dropped to the ground.
A few tail end flowers are still left on Eucryphia nymansensis 'Nymansay'.
Persea indica (BSWJ 12555) settling down nicely after planting this year.
Arbutus unedo overhanging the path by the Acer griseum.
First flowers out on Peumus boldus. Rather early as most are still in tight bud and will not be out until December/January.
Rhus chinensis now in full flower – no great show.
A solitary self-seeded Gunnera in Old Park Wood well away from the Gunnera beds.
Frankie has also cleared out the ditches below Slydepark and removed yet another tree trunk from the river.
Edwina has brought a spray of Cotoneaster bullatus with berries from her garden in the village.
Much hassle yesterday from the Forestry Commission. A couple of years ago there was a scare about a new disease in sweet chestnuts. The Forestry Commission overflew Caerhays twice and identified old sweet chestnuts with dead crowns. After a bit we established they were not diseased with something 'new' and were merely old trees dying slowly. Undaunted the Forestry Commission then came looking in late February for Phytophthora ramorum in any side shoots from the base of these older trees. They found some and asked for these to be removed which we had largely already done. Today they demand the felling (or tree surgery to remove the dead crowns) on 20 or so mature trees by March 2021. They say that there may be grants but we know we do not qualify for Woodland Development grants until 2023. Destruction and legal compliance before common sense as usual. Some of these trees are in woodland garden areas so the mess and disruption will be more costly still. Trees with dead crowns which are dying of old age rather than a disease would normally be considered to be adding to biodiversity in a woodland context. I wonder whether to argue this further bearing in mind the usual COVID delays on anything happening between now and last February. What did two trips from Bristol for two or three Forestry Commission people plus two helicopter overflies actually cost the taxpayer and what is he actually getting in return?
The cones on Abies koreana are ripe and have shattered much earlier than usual this year. Normally they would stand proud until the new year. No sign of the cones being ripe yet on any of the other Abies species.
Cotoneaster x watereri 'Pink Champagne' now has many more yellow fruits this year than ever before. They will turn pink tinged when ripe. This too is a 1991 (post 1990 hurricane) planting and has become a large tree as you can see in the third picture. We have sent seed in previous years to gardening friends and had a nice seedling back last Christmas. I am not sure if Asia has yet raised any herself here? Hilliers list this today as Cotoneaster salicifolius 'Pink Champagne' but we were given it by John Bond at Windsor under the first name.
Acer sterculaceum subsp. franchettii turning colour but only to brown!
Photinia niitakayamensis with fruits and a few older leaves turning red. This came from Mark Bulk's nurseries to add to our Photinia collection. The berries seem to turn yellow then light red but may yet go darker? A Taiwanese species related to Photinia davidiana but with smaller leaves and a more compact habit. Semi evergreen by the look of it.
2017 – CHW
Look at how high up the trunk ferns have colonised this old Pinus insignis. The tops blew out two and three years ago and we left the bare trunk (60ft of it) for 'deadwood' or wildlife as the Forestry Commission now requires. Zero interest in timber production now – all they care about is climate change and bats! Such are the wonders of fading European rule. There are holly trees growing from the trunk too as it all decays.
2016 – CHW
The one seed pod on the Magnolia officinalis var biloba is maturing but not yet ripe.
Magnolia 'Yellow Bird' still has nice secondary flowers on show in Penvergate.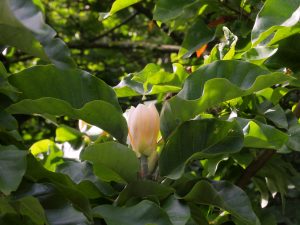 Now secondary flowers on Magnolia 'Yellow Fever' as well although these are dull by comparison.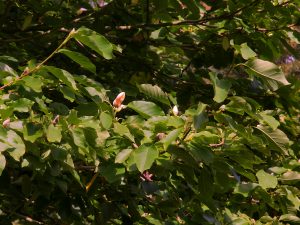 Xanthoxylum simulans' berries are now mature. James Garnett told me these make cheap pepper which sells in France for €130 per kilo. A few quid here then!
2015 – CHWA Cercidiphyllum japonicum planted in 1991 below Slip Rail is moving from a gorgeous yellow to having tinges of black. With the sun on it it is quite a sight but the Tetracentron sinense beside it, which has equally brilliant red autumn colour, is still pure green. No scent yet from the cercidiphyllum despite a very hot 10 days – hotter than August by a long chalk. Previously an identical record tree stood in the same spot but was felled in the 1990 hurricane.