2017 – CHW
Surprisingly three of Jaimie's magnolia crosses from the spring have set seed. The paper bags protecting the flowers after pollination are still there. This shows how little magnolias self pollinate and how receptive they are to pollen from other trees. In 10 or so years' time we may have something new to view but, for now, we are not revealing what the parentage of these crosses actually is. The seed pods have been gathered. Now all we have to do is grow the seeds!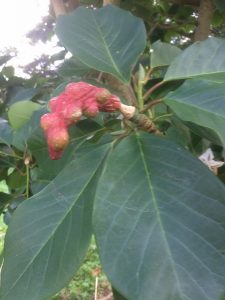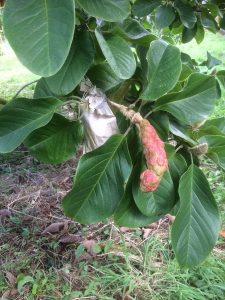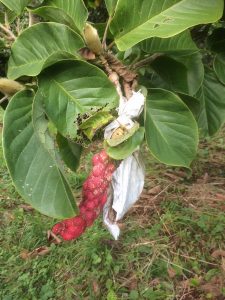 2016 – CHW
A Cornwall Farmers extraordinary general meeting to approve the new rules of the cooperative. From 4,230 members about 25 turned up and the vote was twelve for, seven against, two abstained. Fortunately we had 67 proxy votes in favour thus achieving the required 75% approval level.
Many years since we have seen such a huge crop of seed on the Michelia dotsopa by Georges Hut. The rain in mid/late August came just in time to swell the seeds and seed pods before they dropped off in the heat. More than enough to grow a few fields of michelia from this lot.
Not far off is Tetrapanax papifera. Search the blog database to see how this plant looked in early spring after the winter had broken all but the odd leaf. Is this a record increase in size for any plant? I still do not really like them or it but never mind.