2023 – CHW
Hydrangea paniculata 'Skyfall' with fresh new flowers after the rains.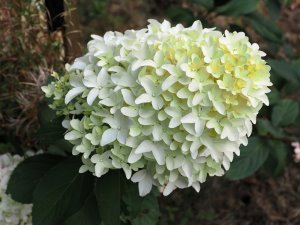 Rhododendron 'Norfolk Candy' flowering again as usual.
Hydrangea paniculata 'Polar Bear' also with fresh flowers.
Hydrangea paniculata 'Early Sensation' with new and old flowers.
A few secondary flowers on Rhododendron 'Elizabeth'.
Buddleia lindleyana still with a wonderful show a good month after it first started flowering.
Seed heads on Liquidambar styraciflua 'Red Star'.
An unusual combination – Liquidambar styraciflua 'Red Star' and Asimina triloba. No fruit on the Asimina.
Acer rufinerve 'Erythrocladum' with a good display of autumn colour already. It is usually early but not this early!
Magnolia campbellii 'Valentine's Torch' with its first big crop of seeds. As a very early flowerer it normally sees its flowers frosted. Well worth growing these seedlings as they may well come true to name as very few other magnolias are out in February.
Despite the drought, the late flowering Rhododendron nuttallii is setting seeds. Just see the effort this takes and how the new growth has developed where there are no seed heads in the way.
Seed here for Asia to collect in November/ December.
The absurdly named Ilex fargesii subsp. fargesii var. fargesii (ex Pan Global Plants) has settled in well after planting last autumn.
Acer x conspicuum 'Candy Stripe' is showing drought symptons with leaves drooping, scorched and close to dropping. Suspect it will survive.
Stachyurus praecox on the drive with seeds.
First flowers on Hedychium tengchongense which are nearly over.
Hedychium spicatum 'Liberty' also missed in action in its first year.
As it is on the banks outside the front door (later than ever before). That completes the first cut and now immediately on to the second up the drive.
Hydrangea aspera ssp. robusta out late as usual in September. A good mauve and white combination. We need to propagate this as it is a winner!
Cornus kousa 'Doubloon' is laden with fruits which have turned from orange to red. Very early to be coloured up like this.
Sorbus folgneri 'Emiel' has no berries at all this year. Last year it was plastered.
Our pair of swans hatched off two signets this year which are now thankfully nearly fully grown. However, when the islands on the lakes were being strimmed, the swans' nest reveals seven addled eggs still in the nest although you can see remains of eggshells from the two that did hatch. This makes one wonder if the mother swan should have sat on the nest for a day or two longer and maybe left prematurely.
A couple of nice pictures of the reflections in the lake from the islands are also attached.
Some lizards sunning themselves on the decking beside the beach.
Magnolia 'Genie' is also giving a display of secondary flowers but they are a bit misshapen, slug damaged and rather paler in colour than the spring ones.
The berries on Symplocos paniculata are plentiful again this year and just beginning to turn blue.
2018 – CHW
Jaimie and the team have completed the new widened walkway down from the top wall with sleepers. It looks good and will allow the quad much better access to the greenhouses.
2017 – CHW
Western Power have started the work to install a new transformer in the back yard.
2016 – CHW
The annual tree survey at Burncoose where we identified three trees (eucalyptus, ilex oak and monkey puzzle) for immediate felling as a danger to the public. Erica cinerea 'Joseph Murphy' – back in stock in the nursery. A great autumn flowering variety.
Daphne odora 'Mae-jima'
is a new and rather brashly variegated form of Daphne odora. I saw and photographed this first in the Isle of Wight last year at Busy Bees Garden Centre. I fear it will be tricky to grow well.
Sedum spectabile 'Brilliant' – one forgets just how showy these can be in September.
2015 – CHW
Seeds on Camellia tsaii which are an odd shape and an odd colour. I have never seen seed on this specie camellia before but may well never have looked. Camellia tsaii is as near to the true Indian/Chinese tea plant as it was thought possible to grow in Cornwall before Tregothnan came along and started to pretend to be growing (all) their own tea. The true tea camellia is Camellia sinensis in all its many forms. Whether Tregothnan tea as sold at Fortnum and Mason for £15 to £20 per (small) packet actually has even 2% of Tregothnan grown tea leaves in it is an open question which is unlikely to get a straight answer if you were to dare to ask.
Next door there are still a few half decent flowers on Rhododendron 'Tally Ho'. This was featured much earlier in July but some flowers have carried on to September and nearly rival Rhododendron 'Polar Bear' as the last rhodo out for the season.
Cotoneaster hauliense must have come from Crug. It is in the new clearing nearest to Tin Garden and suddenly caught the eye with its large chubby bright red berries. In the main cotoneasters are pretty dull even when in berry but this is rather good. I doubt the berries will last long when the pheasants see them.