2023 – CHW
The gales have gone and we seem to be in a settled warm period of weather which may prematurely finish off some of the proposed magnolia entries for the Rosemoor Show next weekend.
Acer palmatum 'Orange Dream' now in full leaf.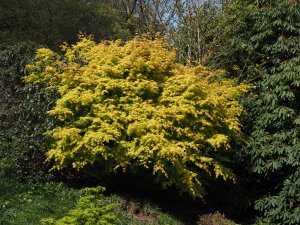 Berberis insignis var. insignis flowering better than ever before.
Then a trip to photograph the 24 (mainly) Matsumae cherries planted last year below White Styles Field on the way to Old Park.