2023 – CHW
Several house martins over the lawn and around the house today. About a week earlier than usual.
The final Michelia cutting yesterday afternoon before 12 hours of strong wind and rain overnight. We were lucky to get everything cut in the day.
Michelia maudiae with a gorgeous scent and silvery undersides to its leaves.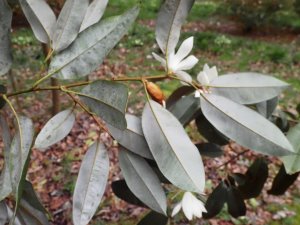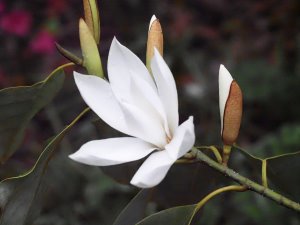 Michelia floribunda var tonkiensis. Despite its name the smell of the flowers is far from attractive.
This a natural hybrid between Michelia doltsopa and Michelia doltsopa 'Silver Cloud'. Well worth a name and quite outstanding. It will perhaps be the best thing flowering in the exhibit unless it drops overnight. Very silvery undersides to the leaves. We must propagate this next autumn.
This is the conventional Michelia doltsopa which Michael Levett grew from a seed and is now 30-40 feet tall in the Rookery. The undersides of the leaves not so silvery. There are 4 seedlings Michelias in the Rookery with different leaf forms and flowers.
Magnolia x loebneri 'Champaign' flowering for the second time in Old Park as we cut Michelia 'Fairy White' which is nearby.
Michelia doltsopa 'Silver Cloud' with rounded flowers and so many that the branches are bowed over with the weight of them.
The Michelia doltsopa at Donkey Shoe which has red indumentum on the undersides of its leaves. Previously called Michelia manipurensis until Dandy reclassified it in the late 1920's. To my mind this is still properly M. manipurensis or M. doltsopa var. manipurensis as I argued in a recent RMCG Yearbook article on Michelias. Yellowish in bud; opening white.
Around 30 cut Michelia species and hybrids piling up ready for the CGS Wadebridge Show. I doubt anyone has ever exhibited as many Michelias at a show in the UK?
The Michelia stand completed with Michael, Paul and Rob.
On the stand Michelia floribunda – as we have always known it. Yellow in bud but less yellow this year than last. Is it floribunda? Tom Hudson says just another form of M. doltsopa.
Michelia cavaleriei (not M. macclurei as we had previously thought).
Michelia doltsopa x Michelia doltsopa 'Silver Cloud' – Jim Gardiner says worth an FCC award which he will support. This was a seedling raised by Michael so he needs to name it and then we try to register with the Magnolia Society International.
Michelia maudiae.
Michelia 'Fairy White'.
Michelia cavalieri.
Michelia doltsopa.
Azalea 'Yorozuyo', one of the Wilson 50, on Rookery Path. Semi evergreen and out early this year. Huge clumps growing in nearly full shade. Branches spread laterally and flat as you can see.
Above the Green Gate is what I suspect might be Azalea 'Oino Mezame' – another old original plant from the Wilson 50. This is subject to checking by Polly Cooke in due course who is the authority on the Wilson 50 story.
Another aged and declining azalea in the original Wilson 50 planting area. Could this be Azalea 'Ima Shojo'? Semi evergreen.
And what is this one which is nearly on its last legs nearby? A semi-evergreen white but with a very different habit to 'Yorozuyo'? Could it be 'Hachika Tsugi'? Doubtful. Upright habit.
I do not know why we have not had Camellia x williamsii 'Les Jury' in the collection here until recently. Certainly one to add to the propagation list. An excellent red.
Camellia reticulata 'Larry Piet' with full size flowers for the first time here. Good but not that different. Plenty of cutting material here already.
Camellia reticulata 'Lovely Lady' – less like a conventional reticulata variety perhaps but nice enough.
Magnolia 'Felix Jury' and Camellia x williamsii 'Caerhays' both nearly over.
This is very probably not a Wilson 50 variety but in the same clump on Burns Bank are two other azaleas which have yet to flower. One is, I think, Azalea 'Hoo', or that is what I have always known it as. None of the Wilson 50 appear to have erratic stripes in their flowers as does this one.
A record Nothofagus cunninghamii.
Laurelia serrata with an even more trailing habit than ours. A wall of trailing green.
Kerrya japonica 'Pleniflora' ('Flore Pleno'), the double flowered form which we used to stock at Burncoose and should do again. It used to be a popular border shrub but has recently fallen out of fashion.
Quercus salicina in the Coronation Planting. Two rather different forms of this attractive evergreen oak which were a gift from Tony Kirkham and Kew. A holly like leaf and a dense mounded habit to this unusual evergreen oak. Perhaps a cutting or two one day?
An extraordinary wisteria growing up into a plane tree although its roots and trunk are yards away. Presumably, the wisteria once grew up a nearby but now long-gone tree. A huge trunk.
The new series of three lakes which have just been installed.
Back at Caerhays the best Rhododendron macabeanum is just out.
Magnolia x veitchii from Cholipo planted above Green Gate.