2023 – CHW
Cones forming on Picea abies which has now been exposed to more light after our clearance work in the Rookery.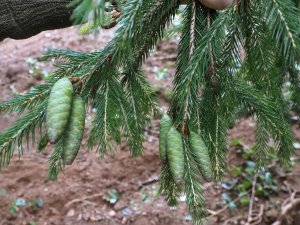 Down to the nursery for the '40 years at Burncoose' staff photograph in the packing shed.
I soon spot a new plant – Dais cotinifolia.
Aralia cordata setting seed.
Camellia 'Apollo' has a flower nearly out in August!
Euonymus planipes with ripe and splitting seed heads.
Lonicera x americana still nicely in flower.
Styrax japonicus 'Pink Chimes' with what looks like a secondary flowering.
Chaenomeles x superba 'Nicoline' with a well-formed quince.
The new rhododendron seed house full to capacity.
A fine crop of Schefflera pauciflora seedlings.
Rhododendron liners equally good.
Loropetalum chinense rubrum 'Blush' well out already.
Rhaphithamnus spinosus with blue berries.
2022 – CHW
So what do conclude from 2 days of viewing plants suffering from drought?
a) It is not as bad as 1976 YET! Drizzle overnight does help. The Sunday's rain 7 weeks ago which southern England didn't receive has been the difference. In 1976 it didn't rain here from 23rd April until the first week of September.
b) The worst affected plants are the hydrangeas on the drive followed closely by young rhododendrons planted in hottish places in the last year 3 years.
c) In 1976 elderly beech trees were the worst sufferers. This time it is the mature sycamores which have the worst premature leaf drop. We have been seeing elderly sycamores dying of old age in recent years. This process will now accelerate.
d) Watering big leafed rhodendorns (with our own private and plentiful water supply) does work but you have to water hard to get the soil damp enough to get the water to penetrate over a few consecutive days. Nevertheless you cannot begin to water everything so 2022 will see the demise of many 30-40 year old big leafs planted after the 1976 drought.
e) We must take more care with what we plant in full sun and what we plant in dappled shade.
So far its really not as bad as I had feared when coming down the drive last Sunday. However a few rare ancient and original Chinese introduced trees will probably pass out more quickly in the next year or two than would otherwise have been the case. Aesculus wilsonii is top of the list and the 3 biggest Pinus insignis look dreadful. I suspect Cornish gardens have fared better than their counterparts in Hampshire, Kent, and other home counties. Exbury and the Savill Gardens can irrigate but they are the exception.
The big leafed rhododendrons in Burncoose Garden have survived the drought better than Caerhays. Burncoose had the benefit of a good few thunderstorms.
Hydrangea aspera ssp robusta is still in tight bud but its leaf and bark is virtually identical to Hydrangea sargentiana. But for the very late flowering of robusta you would be very pushed to tell them apart.
1995 – FJW
2 hours rain – no rain for 3 weeks – very hot. Summer supposed to be the driest since early 1700's.
1986 – FJW
Momma died.
1942 – CW
All 3 big Magnolias on wall have several flowers. Both big Parviflora and the big Sinensis have late flowers and Saluenensis – several Lapagerias and cyclamen. Fuchsias good but feel the heavy rains of the last weeks.
1916 – JCW
The following rhodo's show flowers or bits of flowers. R flavidum, R fastigiatum – keysii – decorum – Cunninghams yellow – 10333 – intricatum, R spaeranthum.