2023 – CHW
The garden season started today; our first day of opening this year. Around 100 visitors in the sun.
Well budded camellias at the sales point.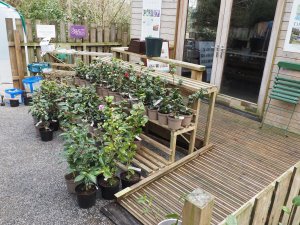 The newly installed polytunnel to keep any frost off things.
A good show of helleborus.
Magnolias and other things.
I am attempting to fill in the long and complex forms necessary to register Camellia x williamsii 'Mary Pickthorn' with The Camellia Society International. The forms seem rather out of date as they ask for transparencies. In photography terms these went out with the dinosaur.
Here are some photographs of out flowers necessary to measure flower size and, using the RHS Colour Charts, to identify the exact flower colours.
The thing which, to my mind, makes this chance seedling interesting and worthy of registration as being unique and different is the strange and irregular dark pink blotches and mottling on the very pale pink flowers. Not known in any other x williamsii camellia variety bred and raised at Caerhays.
Camellia japonica 'Italiana Vera' is fairly new here. Not that different but, not surprisingly it sports the odd pink flower as you can see.
Camellia japonica 'Adeyaka' is also new and a very vivid red indeed. Only a single though.
Right to left – Paul Sanderson – Timothy Kraft – Jaimie Parsons – John Kelly – Michael Levitt
Camellia forrestii – still in bud and looks tender. Entirely new species to me.
Our policy remains to try to buy in and propagate the best of what is new camellia wise. This is not such much in the way of camellias as we are unable to buy the best new forms from Nuccio's nursery in the USA due to plant import restrictions.