2020 – CHW
The short sharp hailstorms are not improving the magnolias. However we move on to plant up the Tin Garden in the memory of my father mainly with plants bred and raised here by him and Philip Tregunna between 1955 and say 2005. Smart labels still to be produced by Karol. The plant list is attached.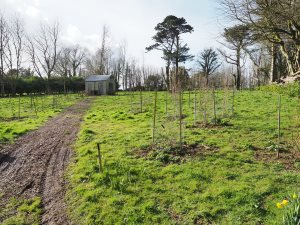 Ilex perado subsp. perado laden with ripe red fruits. The best I have ever seen it although a pretty dull holly really.
Jaimie's original Magnolia 'Caerhays Splendour' just coming out in its pomp. Bigger flowers than on yesterday's youngster.
A young Magnolia 'Caerhays Belle' looking wonderful.
Magnolia campbelli 'Darjeeling' now full out. This is the smallest of our three plants out today.
First two flowers on Camellia reticulata 'Dream Castle' on the Main Ride.
Narcissus 'California' – a Lanarth hybrid planted at Tin Garden last year. Named, I think, after California Moor on Goonhilly rather than anything American.
Last year's planting of Prunus campanulata 'Felix Jury' with its first excellent flowers. What a dark colour and so many flowers on such a young plant. I saw this three years ago at a Savill Garden RCM Group / RHS rhododendron show in a vase and knew this was one to get for us and for Burncoose to sell.
Rhododendron Golden Oriole Group – raised here as 'Golden Oriole var. Busaco'.
A grafted Magnolia 'Lanarth' above the greenhouse from the Lanarth plant growing at the top of the lawn there (rather than in the walled garden). Just about over but doing really well in the shelter of other rhodos and camellias. Upright habit and, of course, slow growing.
Asia with the circa 50 different named magnolias picked out of the frames ready to plant out in various parts of the garden when it dries up a bit more hopefully next week.
Rhododendron, azaleas and rarities ready to go out as well.
2016 – CHW
No marriage proposals here that I am aware of today but 961 people around the garden yesterday. Sounds a lot but it was a 'locals come free' day so income £1,000 only. About 10% paid! The tearooms sold out of everything despite Kevin baking a monstrous number of cakes for Vikki.The Chiefs beat Bath yesterday fairly comfortably and, since it was a 1pm kick off, we had lunch after the match and left at 4pm reasonably sober compared to a year ago. Karol got to see the match too.A few more new 2007 planted magnolias coming out in Kennel Close:
Magnolia 'Aurora' had a flower or two last year but is now performing well and is very striking indeed. We have a larger plant above Hovel Cart Road. This is a very good magnolia with a good shape to it.
Magnolia 'Purple Sensation' is just showing colour – very dark.
Magnolia 'Sweetheart' is half out.
Magnolia 'Laura Saylor' – no idea who she was/is or the origin of this. First flowering and rather battered by the wind but quite acceptable and stripy.
Magnolia dawsoniana (graft from Caerhays original apparently) – does not look true to me but perhaps first flowering. Petals too rounded I think.
Magnolia 'Red Lion' is a horrible shape and a dingy dank colour. Second time it has flowered here. Older plant on Bond Street.
Magnolia x veitchii (graft from Caerhays originals) looks spot on but a bit of work to get the old spiral guard off which was distorting the growth of the trunk and would have quickly killed the plant.