2019 – CHW
Huge seed clusters forming already on Lithocarpus pachyphyllus. The old record tree is plastered in these and some have already crashed to the ground in recent wind and rain.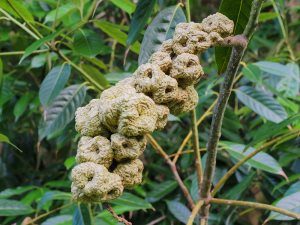 One of the magnolias outside the back yard is laden with nearly ripe seed pods in profusion. The other three alongside have very few as they caught the wind when the flowers were out.
The rest of the day was spent finalising and signing off on Dad's probate submission to HMRC. A huge effort by Edwina, our land agents and accountants which has taken six months' work to complete.
2018 – CHW
Thinning in the 20 to 25 year old woodland in Brownberry Wood is now complete. These young beech trees have been decimated by squirrels over the years as you can clearly see here. This is why trapping greys is essential if there is to be any chance of a timber crop in 60 or 50 years' time. Why do so few people understand this?
The big leafed rhodos are looking terrible in the nursery beds in the drought but Jaimie has now started watering to keep them alive. Rhododendron sinogrande was the great casualty of the 1975 drought.
Plenty of wild strawberries are the bonus for the grass cutting team. Over two thirds of the garden has now been cut and, with no rain in sight for at least another two weeks, there is little prospect of the need for a second cut in September (for most of it anyway).
Clethra monostachya is flowering nearby in Bond Street below the dump for the first time I have seen it anyway. Very attractive flower and yet another genus to brighten up the woodland garden in July. 10ft tall and similar spread. Growing in shade here.
This is an elderly but nearly dead clethra (once one of three) which I believe was once a Kingdon-Ward introduction. Not out yet and neither are the other three species yet on checking.
2016 – CHW
A slow, hot five hour trip to the Portsmouth ferry. The UK Admiral's Cup challenge (Land Rover sponsored) team are based in a brand new building beside the ferry terminal which was visited today by The Duke of Edinburgh. The five challenger yachts (if you can call them that) were having a practice race as we passed by with thousands of spectators in every conceivable sort of vessel. Apparently Ben Ainslie's team won two races and were third in another two. Qualifying proper on Saturday and Sunday with the finals, if we qualify, next year in the Caribbean. Many millions of income for Portsmouth.
2015 – CHW
The hydrangeas on the drive by the Hovel are becoming a great summer spectacle just as I had planned. From the Hovel going upwards:Hydrangea 'Ayesha' – which exhibits pink and blue inflorescences on the same plant
Hydrangea 'St Clare' – with its blue and white picotee edging
Hydrangea 'Fireworks blue' – very floriferous and vigorous grower
Hydrangea 'Fireworks pink'
Hydrangea 'Hobelia' – starts as a pink lacecap and fades to green and white. Tall growing.
Hydrangea 'Fireworks' – white but it only shows the flashes of red and orange later
Hydrangea 'Libelle' – the best white lacecap in shade
Lots more to come out still so more work needed to check the planting plans.
1987 – FJW
Harvest started – 18 degrees moisture – weather improving.
1934 – JCW
Much as in 1906 and 1907 a long very hot dry spell.
1925 – JCW
Daff seed has been gathered for some time, the Romneya, Buddleia, Plagianthus and D Ivey Escallonia are the best things for the show at Tregony.
1907 – JCW
L giganteum over. R brunonis at its best. All seed picked.
1906 – JCW
Buddleia variabilis is in flower. Have put out our two year old daffs. Sweet peas only fair. One or two late Lapagerias are open.