2019 – CHW
Then down to Burncoose for a full day where the following new plants for the 2020 website impressed in the brief moments between meetings, architects and our interesting new leasehold tenants in The Old Packing Shed who are producing 'Wild Spirit' a nearly non-alcoholic bubbly drink. We had a bottle in the heatwave.
A first flower spike with just two fading yellowish flowers on Puya mirabilis.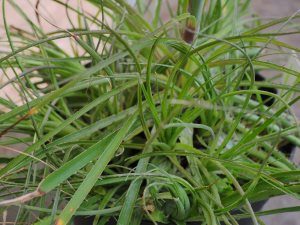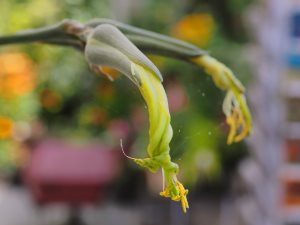 Huge flowers on the very dwarf growing Hypericum olympicum 'Citrinum'.
The 'bamboo fern', Coniogramme japonica 'Flavomaculata', are still tiny liners, but look exciting.
Lobelia 'Tania' sold well at Hampton Court (where we had very good increased takings) but I am told that we ordered it in as young plants as something else which was delivered not true to name. For once 'never mind'.
Needless to say the two large new lean-to glasshouses we propose to erect soon need steel fabrication, groundworks and then glazing by the Falmouth firm which we met who do the last bit. More complexity!
2018 – CHW
Delighted to be back from the Isle of Wight where the heat is slightly less intense and there is nobody banging on about yachting/boats/tides/barbeques and the like.Asimia triloba in flower for the first time on the drive. The flowers are rather smaller than the ones we saw in the nursery in April. Quite why the nursery plants flowered so much earlier I have no idea. Very smooth grey bark and beginning here to make a half decent tree. It looks as though it is an evergreen tree today but is actually deciduous. A real novelty as a flower and more people ought to try this. Best on a hot sunny bank as here.
Karol has made a good start labelling Kennel Close with his new home produced labels. These will, we hope, capture sales when the public see how good they look in situ as here.
Trachelospermum jasminoides has covered the fence and is full out.
Solanum crispum 'Glasnevin' is similar.
Rhaphiolepsis umbellata is setting seed.
The climbing Fuchsia 'Lady Boothby' has its first three flowers. Planted last year and doing well.
2016 – CHW
Jaimie and Michael visited Seaview ten days ago to tidy up the jungle in the garden here. What a great job and careful too to leave in place the pittosporum and bay trees which block out the view of the neighbours from upstairs.A new extension since last year over the garden wall built (of course) by Will Caws.
Threats too of a planning permission to convert the green hut alongside into an 'upraised garden'. We can readily object to this as it will overlook our brief fortnightly appearances here.
2015 – CHW
Hydrangea quercifolia, the US oak leaved hydrangea, has spectacular autumn colour but there are several 'buts'! They are very short lived in our climate; perhaps only 20 to 30 years before they wither away. Perhaps very susceptible to honey fungus. Secondly they are very shy flowerers unless in full sun. It is arguable that you can get better flowers on a young plant in a large pot than later in the garden itself.
We started with six or seven varieties of Hydrangea quercifolia most of which were planted in 2003. Hydrangea quercifolia 'Harmony' failed completely. Hydrangea quercifolia 'Burgundy' by the Top Lodge have grown well but have no flower at all in too much shade. Perhaps worth their place for the autumn display which can be excellent. The clump of three by the Rockery planted in 2008 have all died.Hydrangea quercifolia 'Tennessee Clone' by the Hovel has one survivor from three planted. It is dwarfish and the flowers are so large and heavy that they lie on the ground. Not widely available in the UK or listed by Hillier's.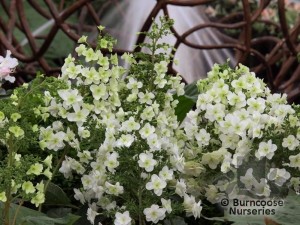 Hydrangea quercifolia 'Snowflake' above Red Linney has double florets and shows its autumn colour even in summer. A vigorous plant in the nursery at Burnoose it is a bit stunted and slow growing when planted out as you can see. Fifteen years and only three stalks. Two survivors from five planted in 2003.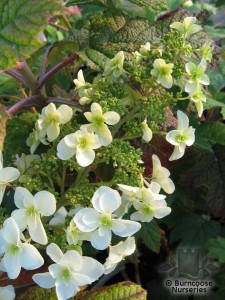 Hydrangea quercifolia 'Snow Queen' has large florets which should show pink tinges later. More vigorous aged 25 years than 'Snowflake' and is said to hold its flower trusses better. However, on Hovel Cart Road, the plants are much larger (four to five feet) but no flowers today as too shady. One plant above the greenhouse flowering properly.
1966 – FJW
Earth tremor felt at 3 am.
1942 – CW
I leant this book to the Bishop of Truro to do some notes on Father [obituary] and only just back. Michelias during this period flowered well 4 in all – Engine House and bottom of Donkey Shoe. Also by Mr Rogers quarry and all forms. The various white Fortunei hybrid beginning to be good and the Auriculatum x and other pinks are now at their best – fuchsias just beginning to be good.
1900 – JCW
Just one or two Lapagerias open. Tea roses are good considering that it is their first year. Lilium longiflorum open.