2020 – CHW
So out of lockdown we go!
Vean, holiday lets all open for business again under all the new rules and, hopefully, full from the outset. Between the two, plus weddings we have lost over £150k of income so far this year plus £30-50k on the café (reopened in part 4th June) and car park and at least £120k on garden visitors, group tours, the shop and events. These are by no means the only estate income losses from COVID but let us look on the bright side and hope to catch up a bit now (all being well).
Wonderful to see the grandchildren here at last after about 18 weeks. Well pre lockdown John & Katie turned back on the M5 one weekend as both children were sick in the car and we have not seen them all since.
Little Beatrice (aged one year and three weeks) crawled to the top of the stairs in the front hall – no problem!
Isla rather liked going in Dad's 'tractor' as she calls it. We visit chicks and find a couple of pheasants' nests on the lawn – one without a mummy and a snail's shell with the eggs. Isla concerned at this.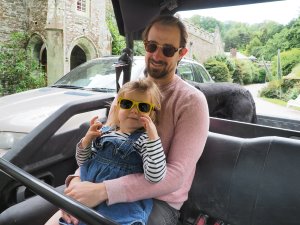 Picnic on the lawn with dogs enjoying the romp without them observing the (now) one meter distancing. Tut, tut.
Isla nearly throwing a strop in the Tregavarras cliff fields looking towards the Dodman Point. We saw a large fox on the way there.
One forgets quite what mess and chaos two small children can create in a very short space of time and quite how many tantrums per day there are. How the parents coped in 14 weeks of lockdown in Bristol I shudder to think about.
2019 – CHW
Hydrangea seemanii making a fine display over the back arch.
The huge flower heads on Meliosma oldhamii are still not actually out although they are so massive that branches are being bent over.
This is our original and totally deciduous Magnolia virginiana just out.
Magnolia yuyuanensis two days further out.
One of the three magnolias outside the back yard is laden with seed already. The other two which flowered slightly earlier have none.
Tropaeolum ciliatum is growing through a Camellia sasanqua and now full out. Worth Asia trying some cuttings or wait for the seeds which I have not noticed before?
Now off to the Isle of Wight with a few new gardens to visit over the next two weeks.
Miscanthus zebrinus as a great contrast to the stipa and other grasses.
Cornus controversa 'Variegata' and Clematis 'General Sikorski' is one of those nice but unusual plant combinations of 'this grows nicely with this'. Pittosporum tenuifolium 'Tom Thumb' likewise with the cornus.
First flower buds on Japanese anemones contrast nicely too with nearly over nepeta. Clever colour and seasonal matches to continue interest through the summer.
Cynara scotomus ready for picking.
Cynara cardunculus with its purple thistle heads also ripe for the table. Home grown beans for lunch too.
Dierama 'Cosmos' absolutely superb in a South African planting.
Aruncus dioecius just going over. We must list this in our catalogue for next year.
Ligularia dentata 'Desdemona' at its best in semi shade. A carpet of flower and a great weed suppressor.
Juglans nigra with fruit forming very much earlier in the year than I would have expected. The current heatwave has side benefits!
A garden with every reason to be one of the Great Gardens of Cornwall and much expanded since I last visited three years ago. The new bamboo glade with many little-known species is taking hold. Yes there is a spring section to the garden here but the South African plantings are outstanding June/July and Cornwall has few gardens with an unusual herbaceous element to match this show.
The very late flowering 'Harrod Hybrid' rhododendrons are just coming out by Georges Hut and on Hovel Cart Road. A great show.
I have never seen Lomatia ferruginea quite so plastered in flower as this year. The tree is 20ft plus tall and every twig has a cluster of lobster claw flowers.
Ligustrum confusum is a record tree. Rather a fine flowering truss for a privet although most of the flowers are already over. Not a hedging privet!
Rather splendid new growth on Acer fabri which emerges as a bronzy-red before turning green. This tender plant is evergreen with us. It is tucked away in a small microclimate of its own with shelter on all sides.
A newly planted Quercus insignis has been wind scorched I think rather than suffering from drought.
Lithocarpus variolosus is absolutely plastered in inflorescences. Far more than in any previous years. Perhaps it will now produce some clusters of fertile acorns? Small clusters have formed before but never swollen up.
Quercus crassifolia seems to be getting away quite nicely.
Hydrangea involucrata 'Viridescens' has been ringbarked today by the strimmer so this may be the last you see of this rare-ish variety.
Hydrangea 'Fireworks Blue' is just coming out ahead of the pink and white forms. There have been many supposedly 'new' hydrangeas in recent years but this one is vigorous and different as well as standing the test of time.
Hydrangea serrata 'Bluebird' is also out early and a good blue. Perhaps the best hydrangea on the drive today.
1928 – JCW
The best pink discolor is good , the greater part of them have no buds. A fair number of Magnolia parviflora blooms now , some hypoleucas, but no delavayi so far. Some good Harrow hybrids, also Maddeni's, Eriogynums, Brachycarpum and late pink Azalea.
1926 – JCW
Fortunei Wilson discolor mayerianum would be nice but for the sun and so cross am – maddeni. Papa Goultier, Romneya x American Pillar very good. Brunonis nice.
1912 – JCW
All the late Fortunei of Wilson's first exhibition have flowered. 835B is best for marking and 887B for size of bloom.