2021 – CHW
The first clump of Centaurea nigra (common knapweed) in flower on the bank.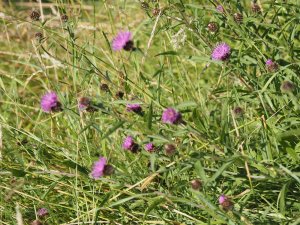 Pale (with a red flash) and the more common pink form of Dierama pulcherimum.
Stunning new growth on Taxus baccata 'Dovastonii Aurea'.
Not quite out yet is Meliosma dillenifolia subsp. cuneifolia but covered in flower this year.
The oldest Manglietia insignis now has a hole right through its trunk and only one side shoot which will soon snap off in the wind. I have missed the flowers.
Cornus kousa var. chinensis 'Wisley Cream' with the seed heads now swelling.
The best blue hydrangea clump in the garden Dad always maintained in shade above the Auklandii Garden. A better blue than Hydrangea 'Benelux' or 'Nikko Blue' I think? Perhaps or perhaps the perfectly acidic soil here? Dad never gave it a name.
Still plenty of flower on the Azalea indica clump also in full shade in the Auklandii Garden. Weeks since the first flowers appeared here and at least seven different forms in this ancient clump.
Cornus kousa 'Samantha' on Bond Street plastered in bracts.