2018 – CHW
A trip to Cotehele which is reputed to have the best herbaceous borders of any National Trust garden in Cornwall. Take it from me that Lanhydrock is better! An odd house well off the beaten track with a faint hint of abandonment and in need of some serious investment. The terraced garden below the house is in keeping and the upper garden in nice surprise boxes but the main herbaceous beds contain just annual plants so of no great interest to Karol and I today. Why do no National Trust gardens label their plants properly? Little sign of any real labelling at all except the annuals. Surely National Trust members deserve to be educated a bit when they visit?
Red water lilies in the main pond.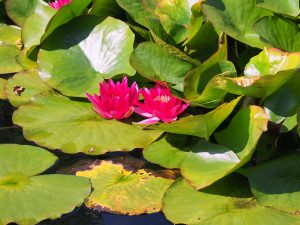 Buddleia salvifolia (I think) out a little early in the year in this heatwave. Not quite the same colour or foliage to ours here so perhaps a hybrid.
Amicia zygomeris in the back of a border.
Acanthus spinosus is smaller growing than Acanthus mollis with rather more attractive flowers.
Canna 'King Humbert' with a surprisingly tall and contrasting flower for a variety often grown just for its foliage.
Blackcurrants, gooseberries and redcurrants. Burncoose used to stock these but gave up. Now we have some good photographs if we change our mind.
Triteleia laxa is one of those bulbous plants whose leaves die just before they flower. Consequently they look a bit of a mess in the border, as here, although the flowers are nice enough.
A fine stand of Yucca gloriosa in full flower.
An elderly but very healthy Itea ilicifolia in full show.
Parkinsonia aculeata – no idea what this is!
Marsdenia oreophila – an odd but vigorous climber with hoya-like flowers.
Kniphofia 'Rufa Rasta' – pretty horrid name – judge it for yourself!
Ajuga reptans 'Black Scallop' without its pretty contrasting blue flowers.