2017 – CHW (photos to follow)
The new sales point and shop is rising up from the ground.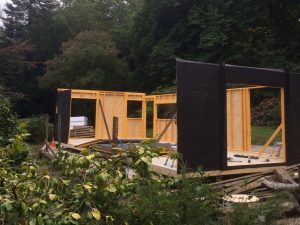 Lithocarpus pachyphyllus has huge seeds again this year.
2016 – CHW
A few more new plants for the 2017 Burncoose catalogue.Fagus longipetiolata is as its name implies. Two incorrectly named plants in the garden here.
Ilex altaclarensis 'Sunny Foster' has an unusual appearance and is quite nice although who Foster was and why he felt 'sunny' I have no idea!
Hammamelis x intermedia 'Rubin' is a new (German) cultivar with red flowers. Although the leaves are full out there are a few tiny yellow flowers which I must assume are errant secondary ones. Somewhat dwarf habit so I must assume not wrongly named.
2015 – CHW
The Garden Society dinner at Brooks Club where I showed the members the three forms of Photinia villosa (see last week) all with berries and also Photinia macrophylla.
An excellent Photinia bretschneideri was also shown. A good display of varied autumn colour plants but very few seeds for the members to fight over afterwards. Ten years ago they had to wait while the Queen Mother filled her large handbag first. Also today a visit to the RHS to sort out plans for the Rhododendron, Camellia & Magnolia Group's stand at Chelsea next year. Progress!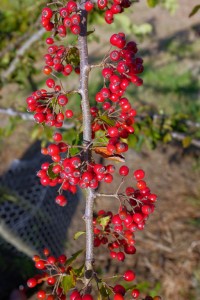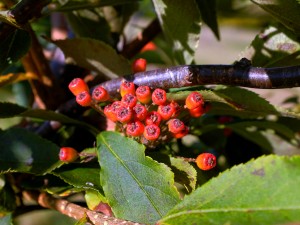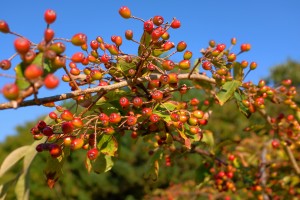 1943 – CW
Fuchsias and lapagerias good. Very few auriculatum hybrids left – Yellowhammer picked a bunch for Aunt Charlotte. Three vases of Royal Flush in hall. Many small bits of rhodo but little to pick. Both forms of Magnolia grandiflora have many flowers. Camellia sasanqua (white) by stables in full bloom. A very wet September and brambles bad.
1910 – JCW
Back from Scotland. Cyclamen, lapageria and roses are all nice also Romneya, but Clematis paniculata is the best thing. Solanums and cassia are also fairly good, also the hydrangeas.