2017 – CHW
Look at how high up the trunk ferns have colonised this old Pinus insignis. The tops blew out two and three years ago and we left the bare trunk (60ft of it) for 'deadwood' or wildlife as the Forestry Commission now requires. Zero interest in timber production now – all they care about is climate change and bats! Such are the wonders of fading European rule. There are holly trees growing from the trunk too as it all decays.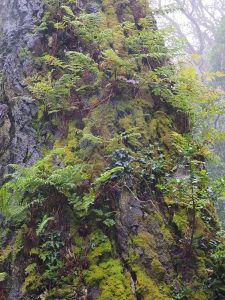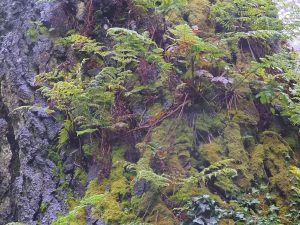 2016 – CHW
The one seed pod on the Magnolia officinalis var biloba is maturing but not yet ripe.
Magnolia 'Yellow Bird' still has nice secondary flowers on show in Penvergate.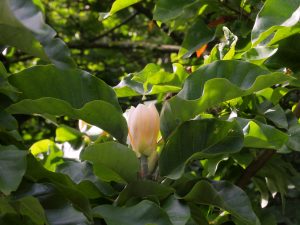 Now secondary flowers on Magnolia 'Yellow Fever' as well although these are dull by comparison.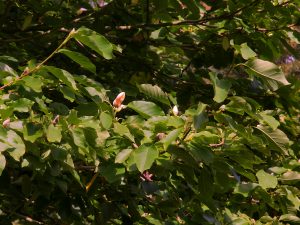 Xanthoxylum simulans' berries are now mature. James Garnett told me these make cheap pepper which sells in France for €130 per kilo. A few quid here then!
2015 – CHWA Cercidiphyllum japonicum planted in 1991 below Slip Rail is moving from a gorgeous yellow to having tinges of black. With the sun on it it is quite a sight but the Tetracentron sinense beside it, which has equally brilliant red autumn colour, is still pure green. No scent yet from the cercidiphyllum despite a very hot 10 days – hotter than August by a long chalk. Previously an identical record tree stood in the same spot but was felled in the 1990 hurricane.